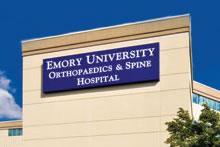 Becker's Hospital Review has named Emory Orthopaedics & Spine Hospital (EUOSH), an extension of Emory University Hospital, in the top 100 hospitals for great orthopaedic programs in 2013. EUOSH is the only dedicated orthopaedics and spine surgical facility in Atlanta.
Emory University Orthopaedics & Spine Hospital prides itself on the highest quality of health care with exceptional patient- and family-oriented service, combined with the latest research and medical advances to serve the unique needs of the orthopaedics and spine surgery patient population.
The hospital offers major joint replacements (hip, knee, shoulder), minimally invasive orthopaedic surgery, hip resurfacing, spine surgery, spinal fusions, scoliosis and deformity surgery, artificial spine disc replacements, and the latest procedures to decrease pain and improve function of the musculoskeletal system.
"We are pleased to be recognized by Becker's Hospital Review as a top hospital with an orthopaedic program," says June Connor, RN, chief operating officer and chief nursing officer at Emory University Orthopaedics & Spine Hospital. "It is known that dedicated, specialty facilities are more efficient and have better outcomes than those that are not. By concentrating all surgical services at one location, Emory physicians and staff can focus on the special needs of the orthopaedic patient, which translates to quicker recovery times, increased safety and better patient satisfaction."
EUOSH offers a comprehensive approach to patient- and family-centered care, including:
Involving patients and families in medical decisions.
New culture and philosophy centering every decision on what is best and most helpful for the patient and family.
Combining the efficiency of a dedicated hospital with the expertise and sophistication of a university hospital system.
Providing patients and their families with specially-designed private suites with sleeping accommodations for a guest; or family suites, so more than one family member can be part of the healing process.
Offering unrestricted visiting hours for approved visitors.
Providing a nursing staff that is skilled in orthopaedics and spine care.
Offering specially-designed orthopaedic furniture customized for total joint and spine patients.
Providing room-service style dining where patients can order anything on the menu from 7 a.m. to 7 p.m. and have a meal delivered to their room within 45 minutes.
EUOSH has also been recognized by Blue Cross and Blue Shield of Georgia (BCBSGa) as a Blue Distinction Center for knee and hip replacement, as well as spine surgery. According to BCBSGa, Blue Distinction Centers demonstrate their commitment to quality care, resulting in better overall outcomes for knee and hip replacement surgery and spine surgery patients.
Becker's Hospital Review features up-to-date business and legal news and analysis relating to hospitals and health systems. Published monthly, Becker's Hospital Review reaches an audience of approximately 18,500 health care leaders.
---