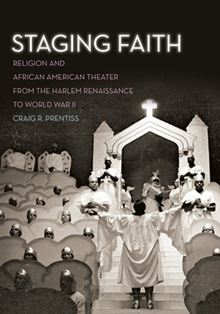 Craig R. Prentiss, author of "Staging Faith: Religion and African American Theater from the Harlem Renaissance to World War II," will visit Emory University for a book reading and signing Tuesday, Feb. 25 at 6:30 p.m. in the Jones Room at Emory's Robert W. Woodruff Library.
The book examines the intersection of religion and theater as a reflection of African American life during the first Great Migration (roughly 1910-1930), when large numbers of African Americans moved from the largely rural South to cities in the Northeast, Midwest and West.
Prentiss is a professor of religious studies at Rockhurst University in Kansas City, Mo.
Prentiss' work on "Staging Faith" included research in the Camille Billops and James V. Hatch archive of African American visual and performing arts collections in Emory's Manuscript, Archives, and Rare Book Library (MARBL), which contains about 1,200 original play scripts by African Americans in addition to other materials.
Prentiss will read from the book, answer questions from the audience, and sign books after the event. Books will be for sale before and after the program, and light refreshments will be served.
For event-related information, contact Julie Braun or visit the Woodruff Library website.
---