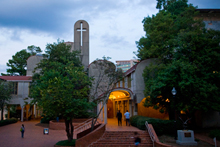 An Ash Wednesday Ecumenical Service With Imposition of Ashes will be held March 5 at noon in Cannon Chapel.
The service will include prayers of confession, imposition of ashes, music, silence, and a homily from Bobbi Patterson, Professor of Pedagogy in the Department of Religion.
"Traditionally Ash Wednesday begins a period of spiritual discipline in the weeks leading up to Easter. Often this involves some form of fasting as well as reflection and repentance. The use of ashes in marking the foreheads of worshippers is a way of reminding ourselves of our mortality and dependence on God," says Gary Hauk, vice president and deputy to the president.
In the Christian tradition, Ash Wednesday is the beginning of Lent, a 40-day (not including Sundays) of spiritual reflection and discipline which leads to Easter, says Lisa Garvin, acting Dean of the Chapel and Religious Life.
This service is a University-wide service, the order of the service is shaped by the United Methodist tradition and is open to all. 
"Roman Catholic, Episcopalian and United Methodist clergy will lead Emory's University-wide service which includes music and prayers from a variety of Christian traditions," Garvin says.
The service is sponsored by The Office of the Dean of the Chapel and of Religious Life with Candler School of Theology and Wesley Fellowship.
---