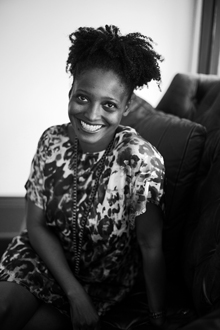 Award-winning poet Tracy K. Smith delivers the Feminist Founders Reading at Emory University on Wednesday, March 5 at 6:30 p.m. in the Presentation Room of the Oxford Road Building as part of the Creative Writing Reading Series.
Smith's most recent collection of poetry, "Life on Mars" (Graywolf, 2011), won the 2012 Pulitzer Prize and was selected as a New York Times Notable Book. She teaches Creative Writing at Princeton University.

Smith will also participate in an afternoon colloquium and an evening conversation with Poet Laureate and professor Natasha Trethewey on Thursday, March 6:
All events are free and open to the public and are co-sponsored by the Emory Department of Women's, Gender and Sexuality Studies and the Center for Women.

For more information, contact Caitlin Ryan, 404-727-5674.
Emory's Creative Writing Program 
The undergraduate Creative Writing Program at Emory celebrates its 23rd anniversary this year. U.S. Poet Laureate Natasha Trethewey, the Robert W. Woodruff Professor of English and Creative Writing, directs the program.
---