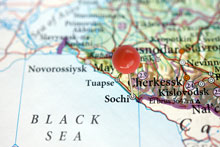 The 22nd Winter Olympic Games are now open for competition in Sochi, Russia, and Emory health employees have the science covered.
Emory Healthcare is supporting the Olympics through the Science of the Olympic Games webpage that features past stories, including ones about the 1996 Games in Atlanta, and new ones, according to Emory Healthcare marketing manager Hannah Cataldo.
On Emory Healthcare's dedicated page viewers can find additional videos related to the Olympic Games, interviews with Emory Healthcare team members, and fun facts about Emory's Olympic history and facts about the Games in general.
For example, if an athlete is injured, an Emory doctor will provide expert commentary on the Advancing Your Health blog, Cataldo says.
A current post on the blog notes that Shervin V. Oskouei, an orthopedic surgeon with the Emory Orthopaedics and Spine Center, served as the event physician for the U.S. snowboarding finals on Jan. 3 in Copper Mountain, Colo. And the winners at that event qualified to represent Team USA in the Sochi Olympics.
Emory doctors and nurses will introduce the Science of the Olympics using content created for the special website, Cataldo says.
---