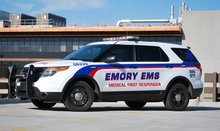 Emory Emergency Medical Services (Emory EMS) will host the First Annual Region III EMS for Children (EMSC) Conference on Sat., Feb. 8. EMSC is a federally funded program which aims to ensure the delivery of appropriate medical care to children involved in emergencies.
The nearly 150 participants expected to attend the Georgia Region III EMSC Conference will include paramedics, EMS educators and managers and other health care practitioners from hospitals and government organizations. Region III encompasses the metropolitan Atlanta area within Georgia's EMS system.
There will be a full day of expert-led lectures, as well as the use of a simulation lab where participants can test their skills at saving critically ill pediatric patients. The labs include pediatric simulation manikins and the full use of advanced life support equipment that would normally be carried on an EMS unit in the field.
"This is the first regional, non-collegiate event that Emory EMS has hosted, and we are excited to be taking on a larger role in the greater EMS community," says Rachel Barnhard, director of Emory EMS. Barnhard will deliver a lecture on triage and treatment of pediatric patients involved in multiple/mass casualty incidents.
Founded in 1992, the award-winning Emory EMS is considered a national leader in collegiate EMS.
WHO:
Emory EMS, regional EMS providers
WHAT:
First Annual Region III EMS for Children (EMSC) Conference
WHEN:
Sat., Feb. 8 from 9 a.m.-5 p.m.
WHERE:
James B. Williams Medical Education Building
Emory University, Clifton Campus
100 Woodruff Circle, Room 110
Atlanta, GA 30322
On-site contact:
Rachel Barnhard, Director, Emory EMS
404-304-3904 – cell
---