Students partner with peers to encourage healthy choices
By Hal Jacobs | Emory Magazine | Feb. 23, 2014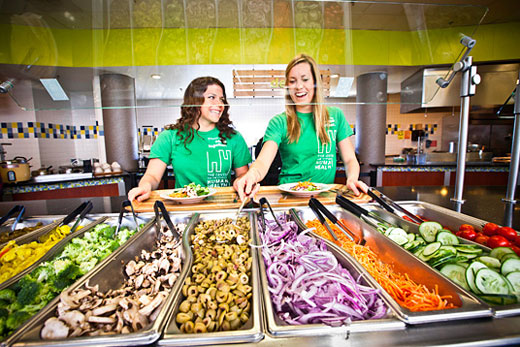 Senior Kylie McKenzie (left) and recent grad Brooke Woodward are part of a pilot program created to help first-year students avoid the notorious "freshman fifteen" by eating well. Emory Photo/Video.
As All-American swimmers on Emory's national championship swimming and diving team, Kylie McKenzie (2014, College) and Brooke Woodward (2013, College) know the importance of fueling their bodies with the right food. But when they first came to Emory four years ago, they never imagined they would become advocates for healthy eating on campus.
After three years of academic course work in human health, however, McKenzie (a biology major) and Woodward (an anthropology major) are coleaders in a pilot Healthy Eating Partners program that reaches out to first-year students during peak dining hours in the Dobbs University Center (DUC) dining hall.