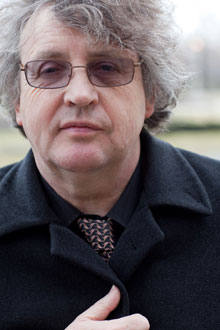 Pulitzer Prize-winning Irish poet Paul Muldoon will give a free reading at Glenn Auditorium on the
Emo
ry University campus Saturday, Feb. 22, at 4 p.m.  
Because of limited seating, tickets are required for the free event and can be obtained beginning Wednesday, Jan. 22 through the
Schwartz Center for the Performing Arts box office
. A limited number of tickets also are available at four local independent bookstores and must be picked up in person. (See ticket information below for complete information.) All tickets are limited to two per person.  
Books and a limited-edition broadside will be for sale at the reading, and a signing event will be held at 5:30 p.m. at the
Robert W. Woodruff Library
on campus.  
Seamus Heaney exhibition opening
The reading will coincide with the opening celebration of the exhibition "Seamus Heaney: The Music of What Happens" at 5:30 p.m. in the Schatten Gallery at the Woodruff Library. As a student at Queen's University in Belfast, Muldoon studied under Heaney, and the two became great friends. Muldoon gave the eulogy at the funeral for Heaney, who died Aug. 30, 2013.  
"Paul Muldoon is known as a word wizard—his poetry is innovative, allusive and exhilarating," says Geraldine Higgins, director of
Emory's Irish Studies program
. "His playfulness extends to the idea of poetic form as well as to expectations about the conventional Irish poem."  
Muldoon 'an electrifying reader'
"Muldoon inaugurated the Irish Studies Program at Emory 10 years ago with a wonderful poetry reading and a limited-edition broadside of his poem 'The Coyote,'" Higgins recalls. "We are delighted to welcome him back for a reading that will not fail to engage, elevate and entertain his audience," she says.  
The reading will be the latest installment of the
Manuscript, Archives, and Rare Book Library's
(MARBL)
Raymond Danowski Poetry Library Reading Series
, which has featured a range of acclaimed poets including Lucille Clifton, Billy Collins, Rita Dove, Seamus Heaney, W.S. Merwin, Mary Oliver and Natasha Trethewey, among many others.  
"We are so excited to be kicking off the 2014 season of the Raymond Danowski Poetry Library Reading Series with a reading from Paul Muldoon," says Kevin Young, curator of MARBL's literary collections and the
Raymond Danowski Poetry Library
, who has directed the series since 2005. "Not only is he an electrifying reader, but his presence on campus will bring renewed attention to the incredibly rich archive of his papers at Emory, as well as our extensive collection of Irish literary materials."  
Muldoon the poet
Muldoon, who became the poetry editor for The New Yorker in 2007, won the Pulitzer Prize for Poetry for his 2002 collection "Moy Sand and Gravel" (2002), which also earned him the Griffin International Prize for Excellence in Poetry.  
His other notable books of poetry include "New Weather" (1973), published while he was a student at Queen's University; "Mules" (1977); "Why Brownlee Left" (1980), "Quoof" (1983); "Meeting the British" (1987); "The Annals of Chile" (1994), which won the T.S. Eliot Prize for Poetry; "Hay" (1998); "Horse Latitudes" (2006), shortlisted for the T.S. Eliot Prize; and "Maggot" (2010).  
He has won numerous other awards, including the 1997 Irish Times Poetry Prize, the 2004 American Ireland Fund Literary Award, the 2004 Shakespeare Prize, the 2005 Aspen Prize for Poetry, and the 2006 European Prize for Poetry. He has been described by The Times Literary Supplement as "the most significant English-language poet born since the Second World War."  
About Muldoon
Born in County Armagh in Northern Ireland in 1951, Muldoon completed his studies at Queen's University and worked for the BBC in Belfast as a radio and television producer from 1973 to 1986. He was the University of Oxford Professor of Poetry from 1999-2004, and his lectures were published as "The End of the Poem: Oxford Lectures in Poetry" in 2006. Muldoon has also taught at Cambridge and Columbia universities; the University of California at Berkeley; and the University of Massachusetts. He has lived in the U.S. since 1987 and currently teaches poetry as the Howard G.B. Clark '21 Professor of the Humanities at Princeton University.  
Muldoon also has written translations, libretti, rock lyrics (for Warren Zevon and for groups The Handsome Family and Rackett, his own band) and several books for children.  
Glenn Auditorium is located at
1652 N. Decatur Rd., Atlanta, GA 30322
. Parking is available in the
Fishburne
and
Oxford Road
decks.  
For event-related information, contact Julie Braun at
jkbraun@emory.edu
.
---