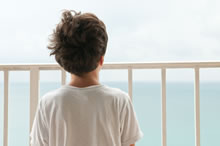 Emory's Nell Hodgson Woodruff School of Nursing, in partnership with the Marcus Autism Center and other community agencies, received a multi-year award from the United Way of Greater Atlanta for its proposed Talk With Me Baby collaborative project designed to improve health and education outcomes for at-risk children. 
 
Talk With Me Baby is a public awareness campaign that emphasizes to healthcare professionals and parents the importance of language and early development through active and social engagement.  The goal of the project is to ensure successful outcomes in developmental readiness for learning as well as measurable outcomes such as grade-level reading proficiency for all children by the end of the third grade.  Additional collaborators are: the Georgia Campaign for Grade-Level Reading, Georgia Department of Public Health, Georgia Department of Education, and the Georgia Institute of Technology. 
"Active and social communication engagement is a dance between mother and baby; parent and infant; and caregiver and child," says Jennifer Stapel-Wax, Psy D., director of infant and toddler clinical research operations at Marcus Autism Center "Our goal is to engage and train the nursing workforce in the importance of social interaction with babies both in the womb and as infants. Once trained, our professionals can comprehensively work with parents to replicate and continue these ideals at home." 
"Given that nurses occupy a privileged position of influence and trust among patients, we can provide important leadership in this effort, says Ashley Darcy Mahoney, assistant professor and neonatal nurse practitioner at the Nell Hodgson Woodruff School of Nursing. "Partnering with our physician colleagues, nurses and nurse practitioners will be central to the design and implementation of inter-professional care practices surrounding the Talk With Me Baby campaign."
 
The Talk With Me Baby collaboration was one of four teams to receive the award totaling $3.6 million. The award is an initiative of United Way's Dare to Make A Difference Campaign aimed at supporting projects that address innovative, integrated, and impactful ways to transform, create, and sustain thriving communities.
 
"Our community issues are too large and complex to tackle alone," says Stapel-Wax who is also assistant professor in the Division of Autism and Related Disorders in the Department of Pediatrics at Emory's School of Medicine. "However, with the generous support of the United Way and genuine dedication of our collaborators and partners, I look forward to the lasting impact on children and families that this project will set into motion."
---