Winship Cancer Institute physicians and staff will not only be vital partners in the treatment of patients at a new proton beam therapy treatment center in Midtown but also conduct clinical trials to better understand the best uses for this advanced form of radiation treatment. Proton beam therapy allows for more precise treatment of a tumor.
The groundbreaking in May 2013 heralded the arrival of Georgia's first treatment center to offer the most advanced radiation therapy in the United States. When Emory Healthcare opens the doors in 2016, the $200 million high-tech center will be one of fewer than 20 such centers in the nation to offer proton beam therapy, and it will further establish Atlanta as a center for biomedical innovation.
The most important benefit to proton beam therapy is that it limits damage to nearby tissue more than other radiation therapies currently available. The construction of a proton beam therapy center at Emory marks a major milestone in the treatment of cancer in the state.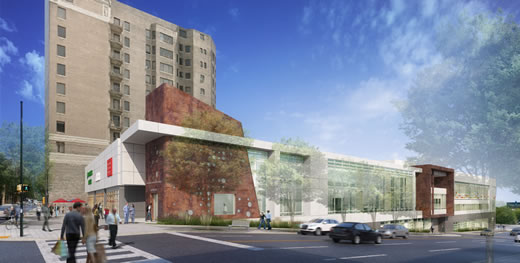 Rendering of the center, to be located at the corner of North Avenue and Peachtree Street, near Emory University Hospital Midtown.
Benefits to Patients
"This new facility is significant for Winship but, more importantly, for our patients," says Walter J. Curran Jr., Winship executive director and the Lawrence W. Davis Chair of Radiation Oncology. "Proton beam therapy matters a great deal in improving outcomes in certain cancers and in minimizing exposure to healthy tissues in others."
That therapy particularly includes children, Curran says. He was instrumental in helping secure the agreement to bring the proton beam therapy to Emory, for which he received the Visionary Award from the Brain Tumor Foundation for Children.
William G. Woods, Daniel P. Amos Chair and Director of the Aflac Cancer and Blood Disorders Center at Children's Healthcare of Atlanta and Emory, mirrors Curran's thoughts. "Children with brain tumors have the potential to have devastating outcomes for future brain development, from both the tumor and its surgery as well as from necessary radiation."
Research already has shown that patients with prostate cancer and brain cancer benefit from proton beam therapy. Winship researchers want to learn whether all cancer patients who need radiation therapy may benefit from proton beam therapy.
Limiting Damage to Healthy Tissues
More than half of all cancer patients receive some form of radiation therapy, which works by damaging the DNA of dividing cells. Radiation therapy is created by photons, discrete bundles of electromagnetic energy that have properties of particles and waves. The energy created by photons diminishes gradually because of their wave-like property. This gradual fading results in a so-called "exit dose" for cancer patients, meaning that nearby, healthy tissue that lies beyond a tumor may be harmed, says Ian Crocker (left), professor of radiation oncology at Winship and Emory. Many advances in radiation techniques over the years have greatly limited that damage, Crocker says, but in certain patients, it is important to limit that dose even more, if possible.
Proton beam therapy allows for that possibility because it can be more precisely controlled. Proton beams stop at a precise point rather than fade, allowing tissue near the tumor and beyond to be spared and limiting the exit dose.
In addition, proton beams damage less tissue as they travel through the body to the tumor, Crocker says. The sparing of nearby tissue allows doctors to administer higher, possibly more effective, treatment doses. As a result, because side effects are usually fewer, patients who also need chemotherapy are often better able to tolerate it, Crocker says.
---