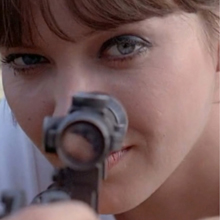 Grand and global French films will be the theme for Emory Cinematheque's spring semester film series.
The weekly series of 35mm film screenings returns Wed., Jan. 22 at 7:30 p.m. with the 1937 war film "Le Grande Illusion" directed by Jean Renoir.  All screenings take place in 205 White Hall and are free and open to the public.
Entitled "Global French Cinema," the series is curated by Charlie Michael, an assistant professor in Emory's Department of French and Italian. Exploring the global aspect that is prevalent in the history of French film, the titles to be screened are a mix of recognized examples of French cinema and contemporary titles with international themes and influences.
"The idea I had for the series [and accompanying Emory College class] is to discuss the ways in which French cinema — so often conceived as a 'national' history of directors and art movements — has actually had global elements for its entire history," says Michael.
 "We believe ardently in the goal of sharing important and rare films with the campus community and the city of Atlanta," said Matthew Bernstein, chair of the Department of Film and Media Studies.
The spring series includes:
Jan. 22: "La Grande Illusion" (Jean Renoir, 1937)
Released on the eve of World War II, this film about Allied aviators in German prisoner-of-war camps is considered a masterpiece.
Jan. 29: "Les enfants du paradis" (Marcel Carné, 1945)
Carné's film, begun under German-occupation and completed after the Vichy government's fall, centers around a courtesan and her four lovers.
Feb. 5: "Pierrot le fou" (Jean-Luc Godard, 1965)
 An unemployed executive and his babysitter head off to the Mediterranean on a crime spree.
Feb. 12: "La noire de…" (Ousmane Sembene, 1966)
The first feature film from a sub-Saharan director that won Sembene France's Prix Jean Vigo.
Feb. 19: "Day for Night" (François Truffaut, 1973)
This is director Truffaut homage to the process of filmmaking.
Feb. 26: "Mauvais Sang" (Leos Carax, 1986)
Juliette Binoche stars in Carax's film, which follows a young outsider hired to steal a serum to cure a disease afflicting young people who "love without love."
March 19: "Irma Vep" (Olivier Assayas, 1996)
A satire of French cinema about a past-his-prime filmmaker determined to remake Louis Feuillade's classic silent film serial "Les Vampires," starring Hong Kong action star Maggie Cheung as herself. 
March 26: "La graine et le mulet" (Abdellatif Kechiche, 2007)
Director Kechiche won four French Césars with this film about a 60-year-old Tunisian immigrant.
April 9: "Les glaneurs et la glaneuse" (Agnès Varda, 2001)
Varda took a digital camera and a small crew into the French countryside to film those who continue the ancient tradition of scavenging.
April 16: "Incendies" (Denis Villeneuve, 2010)
A pair of twins, learning from their dead mother's will that their father is alive, travel to the Middle East where they try to unravel the mystery of their mother's life.
April 23: "OSS 117: Caire, le nid d'espions" (Michel Hazanavicius, 2006)
A retro-styled parody of 1960s-era spy films directed by Michel Hazanavicius, who went on to direct the 2011 Academy Award-winning film "The Artist."
---