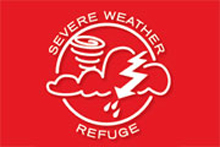 As the impact of this week's winter storm demonstrated, severe weather can strike at any time, and it pays to be prepared.
Severe Weather Preparedness Week is Feb. 3-7, and the Office of Critical Event Preparedness and Response (CEPAR) is taking the opportunity to remind the community about severe weather safety measures at Emory.
Tornados and dangerous winds are actually the most common weather threat in Georgia. For anyone who works and studies on campus, it is important to know what to do and where to go to seek shelter well before dangerous weather warnings are issued.
Here are some frequently asked questions about severe weather safety and how to the campus community can be aware, be prepared and take action:
What is new with CEPAR regarding severe weather safety measures?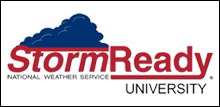 The National Weather Service (NWS) designated Emory University as Georgia's first StormReady University on Feb. 26, 2013. We were awarded the distinction for developing proactive plans to better prepare our campuses for severe weather events.
For example, CEPAR conducted a recent tabletop disaster exercise with the Federal Emergency Management Agency (FEMA), the Centers for Disease Control and Prevention (CDC), and the DeKalb Emergency Management Agency in January related to managing a potential tornado impact along the Clifton Corridor.
We also continue to work with the NWS and our public safety partners to monitor dangerous weather, so that we can alert our community to take steps to be protected.
Have there been any new changes in the way people on campus should prepare for or respond to severe weather, such as tornados?
There have been no changes to our recommendations for what to do on campus in the event of a tornado or dangerous winds (winds of 55 mph or greater). To review:
If you are indoors, move to a Severe Weather Refuge location on campus, or the lowest level of a building in an interior room or hallway, away from windows. The locations are marked with the Severe Weather Refuge logo.
If you are outside, seek shelter immediately on the lowest floor of a sturdy nearby building away from windows.
If no shelter is available, lie flat in a nearby ditch or depression and cover your head with your hands. Flying debris causes most fatalities and injuries associated with a tornado.
If you are in a vehicle, which offers little protection, go to the lowest floor of a sturdy nearby building, away from windows or lie flat in a nearby ditch or depression and cover your head with your hands.
Be aware of falling debris and power line hazards.
If I'm on campus, what's the best way to stay informed about dangerous weather conditions as they develop?
Emory's emergency notification system is a multi-modal system that we use for alerting students, staff, faculty, and visitors of an emergency affecting the Emory community.
The system utilizes the following modes:
Text messaging
Emory email
Emory web page banners
Emory cable TV, available to campus residents
@Emory_CEPAR
EmoryCEPAR Facebook Messages
Outdoor sirens and public address systems
We are also testing a desktop computer alerting application that will allow us to send emergency messaging to all Emory desktops.
We've already seen severely cold weather hit this year. What's the best way to prepare for that?
Be weather aware.  Risks associated with extreme cold like we have recently experienced include hypothermia and frostbite.  Safety tips include:
Stay dry; wet clothing speeds the loss of body heat.
Stay covered; use mittens or gloves and a hat to prevent heat loss.
Dress in layers; air trapped between loose layers helps to insulate your body.
Also, keep a winter weather kit in your car with items that you may need if you become stranded on a roadway. Include items such as:
Blanket
Hat and gloves
Hand warmers
Water bottles
Protein bars, or other food items
Flashlight and light sticks
Signal flag
Kitty litter (for traction on ice)
Small shovel
Jumper cables
In addition to the risk that extreme cold brings to people and animals, cold temperatures can also cause problems with frozen pipes that may lead to the loss of water pressure and ruptured pipes.
In the event of a utility incident:
Do not attempt to correct the problem on your own.
In the event of a major utility failure or potential danger to building occupants, immediately notify Emory Police by dialing 911 from any campus phone or 404-727-6111.
Call Campus Services during regular business hours (8 a.m. to 5 p.m.) at 404-727-7463.
Is the University still using a private monitoring service? What kind of information does it supply?
Yes, the University uses private weather monitoring services, as well as maintaining close contact with the NWS.  By using private weather monitoring services, we can obtain a more localized warning for the Emory campuses, rather than countywide warnings that may not affect our campuses.
I've read that CEPAR recommends texting as the best way to reach out to family or friends during weather emergencies. Are there other forms of social media for that have emerged that you would also recommend, such as Snapchat or others?
Cellular networks are not designed to accommodate the surge of demand that occurs when there is an emergency. In an emergency these networks typically degrade and fail. Snapchat and other apps that send an image or data use more bandwidth. Texting is the last to fail.
We continue to recommend choosing communication strategies that use the least amount of bandwidth, such as texting, with simple shorthand, such as:
Are you ok: RUOK
I am ok: IMOK
For more information about what to do on campus in the event of hazardous weather, visit http://emergency.emory.edu/just_in_time/weather/ or consult CEPAR's online emergency preparedness checklist.
---