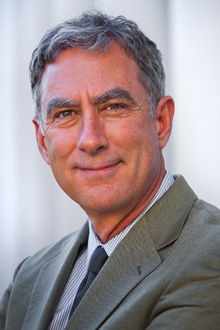 Randall Strahan, an award-winning professor of political science and expert in congressional politics who helped co-found Emory College's Voluntary Core Curriculum Program, died Jan. 16 of bladder cancer.
Strahan, who was 59, had taught at Emory's Department of Political Science since  1985. A public memorial will be held on campus at a future date, with details to be announced.
Colleagues say Strahan will be remembered as a devoted scholar, teacher, mentor and friend — an academic leader who fully embraced the University experience and a lifelong champion of the liberal arts.
Though his research into partisanship and leadership within the U.S. Congress and the methodological foundations of Tocqueville's political science won him national acclaim, Strahan is also recalled for his fundamental commitment to teaching, both on the graduate and undergraduate levels.
Strahan had been honored with Emory's highest awards for teaching — the Crystal Apple for Excellence in Undergraduate Teaching and the Emory Williams Distinguished Teaching Award. He was also recognized five times for excellence in teaching and mentoring by Emory's Phi Beta Kappa Chapter.
"Randy was the rare combination of strengths — he was very passionate about his teaching, about his research and held a deep interest in politics," says Merle Black, Asa G. Candler Professor of Politics and Government.
Service to students, campus community
Strahan's dedication to teaching was visible every day, according to Harvey Klehr, Andrew W. Mellon Professor of Politics and History, who worked with Strahan to co-found Emory's Voluntary Core Curriculum Program.
"His office is about two doors down from mine, and it was a common sight, even through much of fall semester, to see him in there working with a student — he would always make sure to come around the desk to sit beside them to talk, giving them his full attention," Klehr recalls.
In fact, just weeks before his death, Strahan could be found at his computer, hurriedly responding to student requests for recommendations, says Richard Doner, Goodrich C. White Professor of Political Science.
"When he was undergoing chemo and feeling poorly, he would still write lectures, even if he couldn't present them himself — utter responsibility," notes Doner, who came to Emory shortly after Strahan and counted him as both friend and colleague.

"He was someone who was truly passionate about the strength of the institution and the central role of students," he adds.
Strahan served as head of graduate studies in the political science department (1994-2001) and engaged in key committee work within the department, the Emory Work-Life Advisory Board, the Faculty Advisory Committee on Finance and Administration, and the University's Faculty Council.
He also served as a faculty counselor on the University Board of Trustees finance committee from 2010 through last spring.
Voluntary Core Curriculum
It was Strahan's commitment to strengthening the undergraduate experience that led him to help create Emory's Voluntary Core Curriculum Program, which introduces students to the great works of the Western tradition in politics, philosophy, literature, and history.
"I think that was the great passion of the last years of his life, getting that program up and running and successful," Black observes. "His understanding of what teaching and scholarship were really about helped Emory advance both our knowledge and the cause."
Klehr says the idea for the core curriculum program emerged from conversations with Emory Williams, trustee emeritus: "I took it to Randy, because I knew of his interest in the civic education of students. We came up with an idea for a Foundations of American Democracy course — it was actually the first course we conceived of through the Voluntary Core Curriculum, which has now grown to five courses focused on reading great books in Western civilization."
In lieu of flowers, the family requests that donations be made to Emory College's Voluntary Core Program at or by mail c/o Dept. of Political Science, Emory University, Atlanta, GA 30322.
---