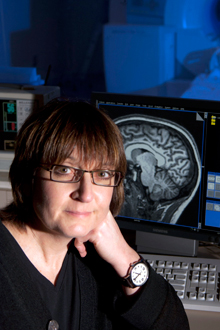 This year's Distinguished Faculty Lecture will highlight the newest findings of Emory researcher Helen S. Mayberg and her team's work on deep brain stimulation and depression.
Mayberg presents the 19th Distinguished Faculty Lecture on Tuesday, Feb. 4 at 4 p.m. in the Winship Ballroom of the Dobbs University Center. The title is "Rethinking Depression and its Treatment: Insights From Studies of Deep Brain Stimulation (DBS)".
The lecture is among a series of events scheduled Feb. 2-9 in observation of Founder's Week, a midwinter academic festival that celebrates the University's intellectual life and commemorates the founding of Emory College.
Mayberg is professor of psychiatry, neurology and radiology and Dorothy C. Fuqua Chair in Psychiatric Neuroimagining and Therapeutics in the School of Medicine. She outlines what the research has uncovered and what future possibilities are emerging in the field.
The studies she is conducting all "offer a unique perspective on critical pathways and mechanisms mediating antidepressant effects of DBS, and on the pathophysiology of treatment resistant depression more generally," Mayberg says.
She spoke with Emory Report about her research and previewed some issues that will be addressed in her lecture:
What is Deep Brain Stimulation?
Deep Brain Stimulation is an emerging treatment strategy for patients with intractable depression. DBS uses high-frequency electrical stimulation targeted to a predefined area of the brain.
How is imaging used in DBS?
Imaging plays a crucial role in the development, testing and refinement of the procedure. In the lecture, I will present the progress using multimodal anatomic and functional imaging combined with behavioral and physiological metrics to delineate critical pathways and mechanisms mediating the antidepressant effects of DBS.
At present, surgical implantation of DBS electrodes relies on high resolution structural images to localize the area of the gray matter-white matter border followed by trial-and-error behavioral testing of chronic stimulation at individual contacts.
What is being discovered about imaging as it relates to response?
Clinical response may be optimized by more precise targeting along specific white matter tracts. This is evidenced by recent diffusion tensor imaging and tractography analyses of DBS responders and non-responders. New studies further suggest that concurrent changes in brain area activity can be causally linked to stereotypic behavioral changes with intraoperative DBS testing, providing a more precise method to identify the optimal target location in real time.
What other new research is being indicated?
New research opportunities are also anticipated via the newly launched ENTICe with new collaborations between Emory and Georgia Institute of Technology scientists now in development. (Editor's note:ENTICe, the Emory Neuromodulation Technology Innovation Center, is a collaboration of clinicians, surgeons, researchers and biomedical engineers engaging industry to get treatment tools to patients more quickly.)
Who is on the team working on DBS?
Active collaborators include psychiatrists, neurologists, neurosurgeons, psychologists, cognitive and computational neuroscientists as well as neuroanatomists, neurophysiologists, biomedical engineers and biostatisticians. Neuroscience, psychology and biomedical engineering graduate students as well as a multidisciplinary group of post-doctoral fellows are important contributors to these ongoing studies.
What is the newest study for DBS?
The DBS team is starting a new depression protocol this month utilizing a prototype DBS device that allows real-time recording — meaning outside of the operating room — of brain activity from the electrode implanted in an area identified as Area 25 to further study the mechanisms of action of this treatment. Recruitment for patients for this new study is now underway and interested patients should contact the lab at 404-727-9228.
---