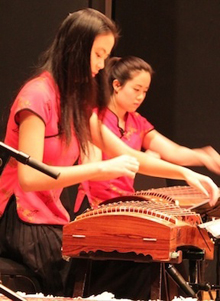 Are you kind, talkative, independent, and maybe impatient? You might have been born in the Year of the Horse.
Chinese New Year, which begins Jan. 31, ushers in the Year of the Horse and Emory is celebrating with music and dance.
The first event is the Emory Chamber Music Society of Atlanta's annual Chinese New Year concert on Friday, Jan. 31 at noon at the Michael C. Carlos Museum. To celebrate the Lunar New Year, the Vega String Quartet is again joined by the Emory Chinese Music Ensemble, performers of traditional Chinese instruments. The concert is free and open to the public.
Chinese New Year is "the most important holiday in Chinese cultural tradition," according to Rong Cai, director of Emory's Confucius Institute in Atlanta.
The Confucius Institute is presenting "An Oriental Monsoon" performed by Hangzhou Normal University student troupe from China.  Hangzhou Normal University is one of the earliest modern schools, founded in 1908 in China.
Featuring Chinese folk songs, ethnic dances, traditional music and ancient instruments, and martial arts, the troupe's performance is aimed at fostering understanding of Chinese culture among students and the public with lively music and colorful dances.
"An Oriental Monsoon" will be Wednesday, Feb. 12, at 7 p.m. at Glenn Auditorium. The event is free and open to the public. To request tickets, contact: xuegang.ao@emory.edu (404-727-8186) or xiaojing.sun@emory.edu (404-712-1247).
"We hope the performance of Chinese songs and dance brings a breeze of spring and a year of good fortune for the Emory community," says Cai, who is also associate professor of Chinese.
Chinese New Year "is a time for family and friends to get together and wish each other good health and a prosperous new year," Cai says.
What to expect in the Year of the Horse? Surprises in adventure and romance, astrologers say.
---