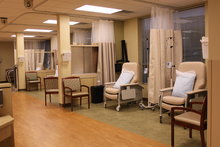 Emory University Hospital Midtown has expanded its infusion therapy services at the Emory Johns Creek Hospital campus to provide better care to more patients. The expanded infusion center at Emory Johns Creek Hospital held an open house on Thurs., Jan. 23, for patients, Johns Creek community members, physicians and staff.
"The center is a beautiful collaboration among Emory University Hospital Midtown, Winship Cancer Institute and Emory Johns Creek Hospital," said Craig McCoy, CEO of Emory Johns Creek Hospital. "This extension of infusion services is a perfect example of the benefit we have of being a part of the largest and most comprehensive health care system in Georgia. We have the ability to deliver excellent care to meet the needs of our patients, right in their community."
The center's unit director, Connie Masters, RN, thanked her patients as well as her staff and volunteers. "A lot of wonderful hands were involved in the building of this infusion center, all with a common goal of making sure our patients and families were at the center of every decision," said Masters.
The 4,500 square foot, $1 million center, located in a larger space on the first floor of the Physicians' Plaza, officially opened Dec. 1, 2013. The center now has 19 chairs for infusion services, up from six chairs when the center opened in 2012.
The center provides referring physicians and their patients access to a full range of outpatient infusion and injection services, chiefly chemotherapy, injections, blood and blood product transfusions, IV medication treatments (such as IGG therapy, and Remicade infusion), antibiotic therapy, phlebotomy, hydration and lab draws.
The Emory Johns Creek location is one of four Emory University Hospital Midtown Infusion Center locations in metro Atlanta. The other centers are located Emory's Winship Cancer Institute on Clifton Road, Emory University Hospital Midtown and Emory Saint Joseph's Hospital.
For information about Emory University Hospital Midtown's Infusion Centers, visit www.emoryhealthcare.org/infusion.
---