Blue Cross and Blue Shield of Georgia, Inc. and Blue Cross Blue Shield Healthcare Plan of Georgia, Inc.  (collectively "BCBSGa"), the state's largest health solutions company, and Emory Healthcare, the state's largest health care system, on January 22, 2014, announced the signing of an Accountable Care Organization (ACO) agreement. This partnership between BCBSGa and Emory is designed to improve quality, enhance personal health care and reduce medical costs by increasing collaboration and efficiency.
The partnership will promote collaborative engagement between patients and their treating physicians. It will also assist in increasing the coordination of care among providers in the Emory Healthcare Network, which brings together Emory-employed and private practice physicians in communities throughout metro Atlanta and the state. This network establishes a single comprehensive care management system that will be connected electronically through the Emory Healthcare Health Information Exchange.
Emory is accountable for providing the full scope of health services required for their patients who are BCBSGa members, and for the cost and quality of that care. The parties will have joint responsibility for enhanced care coordination, quality and cost across the continuum of care for these BCBSGa members. The objectives of the ACO agreement include enhancing care coordination activities, connecting the member with the right doctor, and helping align the right resources that improve patient outcomes and member satisfaction.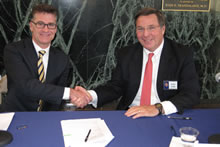 Morgan Kendrick, president of Blue Cross and Blue Shield of Georgia (left) and John Fox, president and CEO of Emory Healthcare (right) signed off on a partnership designed to improve quality for patients, while reducing medical costs.
"This collaborative partnership features incentives for both organizations to achieve improved health outcomes for thousands of Georgians," said Morgan Kendrick, President of BCBSGa. "This value-based relationship will give Emory physicians access to BCBSGa patient data that will improve care coordination and increase patient engagement."  
"This is an exciting opportunity that we strongly believe will have a profound and positive impact on the way health care is delivered throughout Georgia," says John Fox, president and CEO of Emory Healthcare. "More and more organizations are trending towards partnerships like these because of the direct benefits for everyone involved, most importantly our patients."
Additional benefits will result from the extensive collaboration among Emory Healthcare Network physicians and BCBSGa's Care Delivery Transformation (CDT) Teams. The CDT Teams and Emory Healthcare physicians share information with the goal of successful execution of the physician's plan of care. This bi-directional communication with providers supports enhanced member care coordination, risk-stratified care management, wellness and prevention, improved access to data and shared decision making with patients and their caregivers.
Physicians will receive detailed reporting — such as inpatient authorization reports and gaps in care reports that include preventive care screening reminders, drug interactions and missed care notices. Alerts and reports allow physicians to prioritize outreach and work with the patient to close any potential gaps in care. Greater access to patient data and support from coaching programs help physicians transform their practices, improve patient engagement and optimize the health of their patient population.
About Blue Cross and Blue Shield of Georgia, Inc.
Blue Cross and Blue Shield of Georgia, Inc.  a company dedicated to providing greater value to its customers  while helping to improve the health of  its members and  communities, celebrates its 77th anniversary in 2014. As the state's largest and longest-standing insurer, it serves nearly 3 million members, offering a variety of healthcare plans, including medical, dental, life and specialty programs. Blue Cross and Blue Shield of Georgia, Inc. and BlueCross BlueShield Healthcare Plan of Georgia, Inc. are independent licensees of the BlueCross and BlueShield Association®. The BlueCross and BlueShield names and symbols are registered marks of the BlueCross and BlueShield Association. Additional information about BlueCross and BlueShield of Georgia is available at www.bcbsga.com.
About Emory Healthcare
Emory Healthcare, with more than 16,000 employees, is the largest and most comprehensive health system in Georgia. In fiscal year 2013, Emory Healthcare had $2.6 billion in annual net revenue and provided $80.3 million in charity care. It has 1,830 licensed patient beds. In 2013, University HealthSystem Consortium (UHC), a national organization comprised of most of the nation's leading academic medical centers focusing on excellence in quality and safety, ranked Emory University Hospital (combined with Emory University Orthopaedics & Spine Hospital) second and Emory University Hospital Midtown third in the UHC Quality Leadership Awards. This is the second year in a row that UHC has had two hospitals from one health care system (Emory) rank in the national top 10. Emory Healthcare is also the only health system in Georgia with two Magnet -designated hospitals. Emory Healthcare's core purpose: "To serve humanity by improving health through integration of education, discovery and health care." For more information, visit www.emoryhealthcare.org.
Emory Healthcare Network
Established in 2011, the Emory Healthcare Network is a clinically integrated network through which we provide access to coordinated patient- and family-centered care. With six hospitals, 200 provider locations and 1,800 physicians in more than 70 specialties, including 237 primary care physicians, the Emory Healthcare Network is the largest clinically integrated network in the state of Georgia.      
---