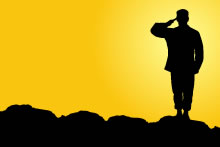 Emory University and BraveHeart: Welcome Back Veterans Southeast Initiative are part of a collaboration offering Star Behavioral Health Providers (SBHP) training in Georgia. The program, better known as STAR, is aimed at improving the care of service members and their families across the state.
STAR is a partnership with the Georgia National Guard, the Georgia Department of Behavioral Health and Developmental Disabilities, the Center for Deployment Psychology and Purdue University.
The three-tiered training program uses course content created by the Center for Deployment Psychology (CDP). Tiers One and Two are open to all interested individuals, and Tier Three is open to licensed mental health providers. Each training tier builds upon knowledge from the previous tier.
The Georgia Psychological Association will be hosting a Tier One workshop on Friday, Aug. 15, from 9 a.m. to 4 p.m., in Atlanta, Ga. Licensed psychologists will be able to earn six continuing education hours by completing the workshop.
The program was developed in response to civilian behavioral health providers seeking to better serve the military population. People associated with the military have specialized needs, speak their own language, and have a higher need for mental health services than ever before.
The intention of STAR is to recruit and train interested civilian behavioral health providers in both the specific culture of the military and in treatment approaches that focus on the needs of the military population. These approaches include the evidence-based PTSD treatments of Prolonged Exposure (PE) and Cognitive Processing Therapy (CPT).
A second aspect of the venture is to create a registry of these specially trained providers for easy access by service members, their families and referring professionals. STAR will manage the registry, verify licensure of providers and ensure completion of trainings.
Tier One will be taught by STAR partners in Georgia. Tiers Two and Three will be taught by special teams from CDP. 
Tier One provides awareness about topics specific to the military and an introduction to military culture and information about deployments.
Tier Two provides education about challenges and difficulties that may arise and are often associated with the military.
Tier Three offers clinical training for licensed mental health professionals, focusing on specific evidence- based treatments to address some of the behavioral health issues facing service members, such as PTSD.
STAR offers providers the opportunity to:
Enhance and deepen professional skill sets by learning more about the unique needs of the military population.
Access training created by the respected Center for Deployment Psychology (CDP) specific to serving the military population.
Receive evidence-based education that supports all branches of the military.
Earn recognition as a clinician who has received advanced training and be listed on the STAR website for easy identification by service members, family and others searching for uniquely qualified providers prepared to meet their needs.
Earn CEUs at minimal or no cost for psychologists, masters-level social workers and counselors.
For more information or to register for the STAR training, visit:http://starproviders.org/providers/states/georgia/.
---