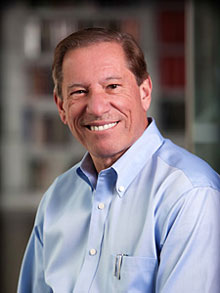 The National Academy of Inventors (NAI) has named Emory's Dennis Liotta, Samuel Candler Dobbs Professor of Chemistry and executive director of the Emory Institute for Drug Development, to the 2013 class of NAI Fellows.
Liotta joins 143 innovators to receive NAI Fellow status, representing 94 prestigious research universities, governmental and non-profit research institutions. Collectively, the new Fellows hold more than 5,600 U.S. patents. Included in the 2013 class are:  
26 presidents and senior leadership of research universities and non-profit research institutes,
five inductees of the National Inventors Hall of Fame,
six recipients of the U.S. National Medal of Technology and Innovation,
two recipients of the U.S. National Medal of Science, and
nine Nobel Laureates, among other awards and distinctions. 
Election to NAI Fellow status is a professional distinction accorded to academic inventors who have demonstrated a highly prolific spirit of innovation in creating or facilitating outstanding inventions that have made a tangible impact on:
quality of life,
economic development and
the welfare of society.
HIV drug Emtriva among medicinal inventions
In collaboration with postdoctoral researcher Woo-Baeg Choi and Emory virologist Raymond Schinazi, Liotta developed Emtriva, a breakthrough antiviral drug for the treatment of HIV, now used by more than 90 percent of HIV/AIDS patients in the United States, and by thousands more around the globe. Other medicinal inventions generated by Liotta's lab over the years include therapies for everything from cancer and rheumatoid arthritis to hepatitis B.
Liotta joined Emory in 1976. While at Emory, he has authored over 230 research publications and more than 70 issued US patents. During the past three decades he has also developed a great deal of experience in the discovery and development of pharmaceuticals and during that time has served as a consultant to many major pharmaceutical firms, including Merck, Glaxo, Burroughs Wellcome, Boehringer Ingelheim and Johnson & Johnson. He is (or has been) a member of the scientific advisory boards and board of directors of several biopharmaceutical companies.
In addition to serving as the executive director of the Emory Institute for Drug Development, Liotta also serves as the co-director of the Republic of South Africa Drug Discovery Training Program. He currently is editor-in-chief of ACS Medicinal Chemistry Letters. He was recently inducted into the Medicinal Chemistry Hall of Fame.
Along with his colleague, Raymond Schinazi (who was named a charter NAI Fellow in 2012), he was the recipient of the 2003 Biomedical Industry Growth Award, given by the Georgia Biomedical Partnership.  
Liotta earned his Ph.D. in organic chemistry in 1974 from the City University of New York and completed his post-doctoral training at the Ohio State University. During his career at Emory, he has received virtually every major award the university gives. These include:
Emory Williams Distinguished Teaching Award,
Emory University Distinguished Faculty Lecturer Award
Thomas Jefferson Award, the highest faculty honor given at Emory
selection as one of Emory's "175 History Makers" 
recipient of Honorary Doctorate Degrees from Queens College and The University of Queensland, Australia, and
Uncommon Courage Award from his undergraduate alma mater, Queens College.
Research at Emory
Biomedical research at Emory is supported by substantial and sustained funding by federal agencies, industry partnerships and philanthropic support. For the past three years Emory scientists have received more than $507 million in external research funding, including nearly $300 million from the National Institutes of Health.
Emory has been a leader in transfer of research discoveries into licensed technologies and startup companies, contributing to Georgia's life sciences industry and resulting in the development of life-saving medicines and medical devices.
Through its Office of Technology Transfer, Emory currently manages more than 1,000 technologies invented by its scientists and physicians. Its robust product pipeline has led to the formation of 69 new companies and the development of more than 30 new commercialized products.
In a 2011 article in the New England Journal of Medicine, Emory was cited as the nation's fourth leading contributor to drug discovery among U.S. public-sector institutions, based in part on lifesaving HIV/AIDS drugs. Licensing revenues from drugs, diagnostics, devices and consumer products have totaled more than $806 million, used to subsidize additional research and scientific education at Emory.
The NAI Fellows will be inducted by the Deputy U.S. Commissioner for Patents, Andrew Faile, from the United States Patent and Trademark Office during the 3rd Annual Conference of the National Academy of Inventors, on March 7, 2014.
---