The opening day of enrollment for the nation's new Affordable Care Act (ACA) was more harried than usual for Emory senior Nick Goodwin, who faced a personal checklist that seemed daunting, even to him:
Meet with Grady Memorial Hospital officials to discuss ACA launch logistics. Run back to campus for an exam in "Opium to Obamacare" anthropology class. Swing by apartment, change clothes. Race to Norcross to join regional U.S. Health and Human Services reps at a community forum to field questions about the new ACA …
What Goodwin didn't anticipate was the simultaneous launch of a government shutdown that day as Congress argued over appropriations, effectively furloughing some 800,000 federal employees.
Instead of a supporting role, Goodwin was suddenly part of the forum's main event, helping lead the discussion on looming health insurance changes.
And so he did, fielding complicated questions from veterans and stay-at-home parents and full-time workers — the insured, the uninsured and the underinsured.
From the man who paid $500-a-month insurance premiums through his employer, yet still had no coverage for his children, to families denied insurance due to pre-existing diseases, that day, Goodwin stood and answered questions until the crowd was satisfied.
For Goodwin, it was a defining moment — the culmination of a journey kick-started by his own curiosity, a desire to reduce economic disparities among those seeking health care, and the need to make a difference.
But what began as a simple idea snowballed, remarkably, into something much bigger, resulting in the creation of RING (Resource and Insurance Navigator Group), a new organization founded by Goodwin and a team of Emory students to train college-aged volunteers in health care outreach that will include educating the public about new insurance options under the ACA.
The goal: Create RING chapters on university campuses throughout Georgia, building a network of young advocates who can help link consumers with information about much-needed basic services — helping shape the changing face of health care, one unexpected step at a time.
College students as consumer advocates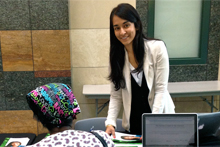 Riana Kahlon provides information about the Health Insurance Marketplace to patients at Grady Memorial Hospital. Photo by Anna Bausum.
Four years ago, Goodwin arrived at Emory confident that he would become a doctor.
In high school, he'd had the opportunity to shadow a family friend, a primary care physician who worked with a rural, underserved community, and was inspired by the impact of the doctor-patient relationship. "I could see the difference he made in their lives," Goodwin recalls.
So when Goodwin began studies at Emory, he reached wide, majoring in anthropology and human biology as well as journalism. Along the way, his focus was sharpened, refined by classes in predictive health and bio-cultural perspectives — which compared worldwide health care systems — and a course on "Medicine and Compassion" during a summer study-abroad opportunity in Italy led by Ruth Parker, a professor in Emory School of Medicine noted for her work in medical literacy and underserved populations.
"It defined my experience at Emory," he says. "I decided I really wanted to go into health care administration."
The summer before his junior year, Goodwin stumbled upon a newspaper article profiling a Harvard student who'd founded Health Leads, a nonprofit that trains college students how to connect low-income patients with basic resources they needed to stay healthy, from housing to childcare to where to get dentures.
In a moment, it was as if the many the pieces of his education were falling neatly into place. "First of all, what a cool concept — taking students and having them work with people who face health disparities," Goodwin says. "A lot of these people don't have health insurance, and when you don't have health insurance, you don't always feel empowered to get health care."
He emailed Parker: "Do we have any opportunities like this in Atlanta?"
Though she didn't know of any, Parker had a suggestion: "Why don't you start something ..."
Then, a bit of deliberate alchemy — Parker put Goodwin in touch with Sarah Candler, an Emory medical student who'd earned an undergraduate degree in English and a Master's of Public Health at Emory and had worked with her on the Italy trip.
Looking back, Parker knows she was rubbing two sticks together. She just didn't know how combustible the combination might become.
"Nick is a very kind and genuine human being — it comes from a very good place in him," Parker explains. "Sarah is just a passionate fireball. I know what she cares about, I know how fired up she is. Between the two, I knew there was good energy but I didn't know where it would go."
For a long time, neither did they.
Adventures in health insurance
Sarah Candler was no stranger to health advocacy.
From her first year at Emory School of Medicine in 2009 to her graduation this past May, Candler had served on the board of Health Students Taking Action Together (HealthSTAT), a nonprofit run by health professional students in Georgia that mobilizes graduate students to take action on health issues.
"I was a non-traditional medical student who had majored in English, so I came to medicine through the humanities, and a lot of it didn't make sense: Why don't my patients take their meds? Why don't they follow-up? Why do doctors find it so hard to get things done?" reflects Candler, who is now a first-year resident in primary care and internal medicine at Tulane University.
"We don't always learn that in medical school," she adds. "HealthSTAT was really based on taking action. We didn't just study what was happening in health care, we acted upon it."
Candler agreed to meet with Goodwin, helping him reach out to Health Leads. Would they be interested in a Georgia chapter? As it turned out, the timing was wrong for expansion. But Goodwin was determined to do something.
Georgia holds the distinction of having the fifth highest number of uninsured residents in the nation, with sharp health insurance needs in both Fulton and DeKalb counties, Goodwin notes. And Candler knew big changes were looming on the health care horizon through the ACA, even if that horizon was still a bit fuzzy.
 "If you really, really want to do something good for Georgia," she advised Goodwin, "the best thing you can do is learn about health insurance. And I'm going to teach you."
Candler converted her kitchen into an impromptu classroom. On Sunday mornings, she began cooking breakfast for a growing flock of Emory students who would appear for brunch and health insurance basics. Many of them were Nick's friends. Some, she knew from the class trip to Italy.
"The bottom line is that Nick was excited and persistent in a great way, and the other students were fired up for an adventure," Candler says.
 "That's how I feel in medicine right now — what's happening in health care is exciting," she adds. "It's going to be complicated, but it always has been. The best way to address it is not to complain about it, but to fix it and participate in those changes in a really productive way."
Right place, right time
What if the new organization focused on helping the underserved find basic resources? Goodwin began toying with the idea of having students volunteer to help people at Grady Memorial Hospital — which serves a high uninsured population.
"What's happening in health care is exciting. It's going to be complicated, but it always has been. The best way to address it is not to complain about it, but to fix it and participate in those changes in a really productive way."
-Sarah Candler
Candler helped the RING team draft the "skeleton of a federal grant proposal." On top of their own studies, Emory students began meeting three to four hours each week to work on a strategic plan, grappling with organizational issues such staffing and funding. It became a hands-on education outside the classroom.
With skills acquired from a digital media class at Emory, Goodwin began developing a logo and a website, slapping the expenses on his own credit card — an understandable sacrifice, he reasoned, in building something from the ground up.
Emory students who wanted to participate with RING were asked to fill out applications and write essays, attracting a diverse volunteer pool. One applicant had served as an EMT, and wrote about being summoned to treat a woman who'd broken her arm but refused care, insisting she had no way to pay for it. Another recalled seeing his family struggle with health care when they moved here from Korea and joined the ranks of the uninsured.
At the same time, Candler was helping the RING team network in the larger health care community, working with groups like Georgians for a Healthy Future (GFHF), Emory's Urban Health Initiative (UHI) and SEEDCO (Structured Employment Economic Development Corporation), a national nonprofit that advances economic opportunity for people and communities.
Through new connections, Goodwin learned that SEEDCO would be applying for federal grant money to support "navigators" who would help consumers learn about the new health insurance exchanges in Georgia.
Goodwin thought RING offered a good fit, and sent SEEDCO executives the student group's strategic plan — the same document they'd labored over during months of breakfast meetings at Candler's house.
SEEDCO requested a conference call, which included Carolyn Aidman, associate director of Emory's Urban Health Initiative— a natural partner for RING. Working with Aidman, RING's mission and goals were woven into the grant application.
This summer, they heard good news: SEEDCO won a $2.2 million federal grant. Together, UHI and RING would share a portion of the HHS funds to provide state-wide health insurance outreach and enrollment assistance (Goodwin declines to reveal the exact amount).
Although Goodwin once imagined that RING students would eventually receive formal training to become certified application counselors under ACA, the hurdle of imposing costs — $400 a person in Georgia — created a practical challenge.
However, Aidman still sees a powerful partnership unfolding, with RING volunteers playing the role of health care outreach and education ambassadors — the fact that Emory's student volunteers collectively speak about 25 languages is a clear plus, she adds.
 "Our RING students are a full member of the team, active and appreciated, and wonderful examples of the ability of the University to engage the community in areas such as affordable health care," Aidman says.
 "And they have taken on a really important initiative to spread the word, especially to other young people, that there is affordable health insurance for them — all they have to do is get to the [Health Insurance] Marketplace," she adds. "They are real ambassadors for encouragement and hope."
'We started a movement'
With the federal grant, an organization that had once struggled to find a focus suddenly had both direction and fuel.
And Goodwin and his team found themselves standing in the middle of health care history as it was being made: attending meetings with HHS officials, meeting with partners at Grady Memorial Hospital, and advising others on how to harness the power of college students as educators and communicators.
So it wasn't completely unusual when Goodwin received an invitation in September to join a White House conference call with President Barack Obama and Secretary of Health and Human Services Kathleen Sebelius. "Just another crazy opportunity," Goodwin chuckles.
Though Candler couldn't have predicted where the work would lead them, she couldn't be happier with the outcome: "Students have this amazing ability to organize themselves," she explains. "They live in a small environment on or around campus and have the ability to socialize and reach people, which makes stuff happen."
"When Nick texted me and said they had (a portion of) the grant, it was just about my proudest moment — like having a kid who just does what they were meant to do and wins some big award, because you taught them to do what they love to do," she said, adding that "it was about the purest thing I've ever been involved with."
Meanwhile, RING keeps growing — 80 volunteer applications have been received since mid-September. And just last month, a RING chapter of about 30 active students was chartered at the University of Georgia. Plans are advancing to establish charters at Georgia State, Morehouse College, and Valdosta State, Goodwin adds.
Most important, student volunteers are already serving the public. On the morning of the ACA rollout, Emory RING volunteers spoke with more than 200 patients and health care consumers at Grady hospital to raise awareness about the insurance marketplace launch.
Emory students have also continued to help at statewide outreach events, as well, he adds. By the time classes resume in mid-January, many will be assigned to work with certified navigators in financial counseling centers at Grady, where they will help educate patients about health insurance options under the ACA.
"This is a critical point in American history — the biggest piece of national health care legislation since Medicare and Medicaid — and we're at the forefront of it," Goodwin says.
"It's so great to see students engaged in that and feeling rewarded by it," he adds. "I feel like we started a movement … and it's spreading."
---