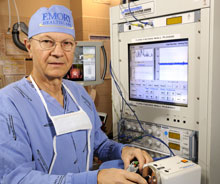 Mahlon R. DeLong, MD, professor of neurology at Emory University School of Medicine, is one of six recipients of the 2014 Breakthrough Prize in Life Sciences. The $3 million award recognizes excellence in research aimed at curing intractable diseases and extending human life.
DeLong was recognized in a ceremony Dec. 12 in Mountain View, Calif., for defining and characterizing the circuits in the brain that malfunction in Parkinson's disease. This scientific foundation underlies the circuit-based treatment of Parkinson's disease by ablation and deep brain stimulation. 
"Mahlon DeLong is a game-changing neurologist and a breakthrough pioneer who has transformed the care of people with Parkinson's disease," says Chris Larsen, MD, PhD, dean of Emory University School of Medicine, vice president for health center integration in the Woodruff Health Sciences Center, and chairman of the board of the Emory Clinic. "I am extremely proud of his accomplishments and of this outstanding recognition of his scientific leadership." 
For more than 20 years, DeLong has worked to understand the causes of Parkinson's and heads one of the nation's largest and most distinguished groups of investigators studying the disease and related neurological disorders.
The prizes aim to celebrate scientists and generate excitement about the pursuit of science as a career and are sponsored by Silicon Valley titans Sergey Brin & Anne Wojcicki, Jack Ma & Cathy Zhang, Yuri & Julia Milner and Mark Zuckerberg & Priscilla Chan.
"The Breakthrough Prize is our effort to put the spotlight on these amazing heroes. Their work in physics and genetics, cosmology, neurology and mathematics will change lives for generations and we are excited to celebrate them," commented Mark Zuckerberg.
The event will be broadcast by the Science Channel, one of the Discovery networks at 9 p.m. on Jan. 27, 2014.
About the Breakthrough Prizes
The Breakthrough Prizes in Fundamental Physics and Life Sciences are funded by a grant from Sergey Brin and Anne Wojcicki's foundation, The Brin Wojcicki Foundation; a grant from Mark Zuckerberg's fund at the Silicon Valley Community Foundation; a grant from Jack Ma Foundation; and a grant from Milner Foundation. Laureates of all prizes are chosen by selection committees comprised of prior recipients of the prizes.
---