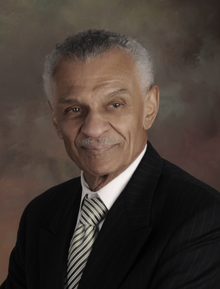 The day after receiving the Presidential Medal of Freedom, the Rev. C.T. Vivian will visit Emory University to take part in a conversation about his life and his experiences in the civil rights movement and the Southern Christian Leadership Conference (SCLC) on Thursday, Nov. 21 at 6 p.m. in the Jones Room at Emory's Robert W. Woodruff Library. The event is open to the public at no charge.  
President Barack Obama will award Vivian the Presidential Medal of Freedom, the nation's highest civilian honor, at a ceremony in Washington, D.C., on Nov. 20.  
Vivian's visit will coincide with the exhibition "And the Struggle Continues: The Southern Christian Leadership Conference's Fight for Social Change," on display in the Schatten Gallery at the Woodruff Library until Dec. 4. The materials in the exhibition are drawn from the SCLC archive housed at Emory's Manuscript, Archives, and Rare Book Library (MARBL).  
"We're very pleased that we have the honor of hosting his first public appearance after he receives the Medal of Freedom," says Randall Burkett, curator of MARBL's African American Collections. "We've had a longstanding relationship with Reverend Vivian, and he was instrumental in helping us get the SCLC papers."  
Vivian will be interviewed at the Nov. 21 event by Andra Gillespie, associate professor of political science at Emory and author of "The New Black Politician:  Cory Booker, Newark and Post-Racial America" (2012).  
Vivian and the civil rights movement
A Baptist minister, Vivian is a living legend in the civil right movement, having joined the SCLC executive staff alongside Martin Luther King Jr. in 1963. He took part in lunch-counter sit-ins and Freedom Rides to protest segregation in the early 1960s; he was arrested after one Freedom Ride in 1961 and sent to Parchman Prison, where he was beaten by guards.  
He is perhaps best known for his altercation on March 7, 1965 – Bloody Sunday – with Sheriff Jim Clark, who punched Vivian on the courthouse steps in Selma, Ala., as he tried to escort a group of African Americans inside to register to vote. The television news coverage of that day's police brutality was an eye-opener for the American public, and Bloody Sunday was a driving force behind President Lyndon Johnson's signing of the Voting Rights Act in August 1965.  
Vivian, a well-known and respected preacher, went on to found or co-found other civil rights and anti-racism organizations, including the Center for Democratic Renewal (originally called the National Anti-Klan Network), an organization that infiltrated and monitored hate groups.  
Vivian's photo hangs in the SCLC exhibition's "Hall of Luminaries," along with other civil rights icons. In addition, the Legacies section of the exhibition features Project Vision (now Upward Bound), an initiative Vivian started in Alabama in the 1960s to prepare African American high school students for college and help them secure scholarships.  
Sarah Quigley, the exhibition's co-curator and the project archivist for the SCLC papers, says the chance to hear Vivian talk about his experiences while evidence of his civil rights contributions is on display will be a thrill for those who attend.  
"I'm delighted we're able to host this event before the exhibition closes," Quigley says. "This year is the anniversary of so many seminal moments in civil rights history. The chance to hear one of the principal participants speak and share his personal recollections and insights is rare, and it's a wonderful opportunity to have him here."  
The Robert W. Woodruff Library is located at 540 Asbury Circle in Atlanta, 30322. Parking is available in the Fishburne deck or Oxford Road deck.  
For event-related information, contact Julie Braun at jkbraun@emory.edu.
---