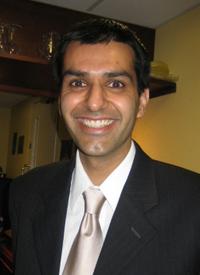 Mohammed K. Ali, MBChB, MSc, MBA, assistant professor in the Departments of Global Health and Epidemiology at Emory's Rollins School of Public Health, was one of four recipients of the 2013 Pfizer Faculty Awards presented by the Association of Schools and Programs of Public Health (ASPPH). Ali was awarded the ASPPH/Pfizer Early Career in Public Health Teaching Award. He received the award at the ASPPH annual meeting in Boston.  
"I am honored to receive such a prestigious award and owe thanks to my mentors and colleagues who have taught me and shaped my style of teaching. This award is also a testament to Emory's supportive environment, particularly the chair and faculty of the Hubert Department of Global Health and Emory's Global Health Institute that enable and help to develop faculty and student initiatives like our Global Health Case Competition," says Ali. "I am delighted to be Emory's representative in being honored in such a manner."
In addition to classroom teaching, Ali helped create and directs Emory's Global Health Case Competition, which has become a signature event for the university and has led to several global health case competitions at other U.S. and international universities. He leads a NIH-Fogarty D43 Training Grant on Leadership and implementation Sciences and organized and helped host a 2012 national meeting on best practices in inter-disciplinary health education sponsored by the Institute of Medicine.
Ali was also recognized with the 2013 Velji Award for Teaching Excellence in Global Health by the Consortium of Universities for Global Health.
---