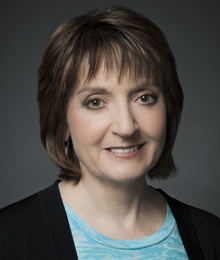 Helen Mayberg, MD, has been named a Fellow of the American Association for the Advancement of Science (AAAS). Mayberg is professor of psychiatry, neurology and radiology and the Dorothy C. Fuqua Chair in Psychiatric Imaging and Therapeutics at Emory University School of Medicine.
Election as a AAAS Fellow is an honor bestowed upon AAAS members by their peers. This year 388 members have been awarded this honor by AAAS because of their scientifically or socially distinguished efforts to advance science or its applications.
New Fellows will be presented with an official certificate and a gold and blue (representing science and engineering, respectively) rosette pin on Saturday, Feb. 15 at 8 a.m. at the AAAS Fellows Forum during the 2014 AAAS Annual Meeting in Chicago. This year's AAAS Fellows will be formally announced in the AAAS News & Notes section of the journal Science on Nov. 29, 2013.
As part of the Section on Psychology, Mayberg was elected as a AAAS Fellow for her distinguished contributions to understanding the neurobiology of depression and for novel treatment approaches based upon neuroscientific understanding.
Mayberg leads a multidisciplinary research program, using neuroimaging to study brain mechanisms and treatment response for major depression. She pioneered the use of deep brain stimulation (DBS) for treatment-resistant depression, and continues to enrich the use of DBS through ongoing studies that provide psychotherapeutic rehabilitation tailored to the specific individual's needs.
In addition, Mayberg's current projects include development of novel imaging biomarkers predictive of treatment response and optimal treatment selection for individual depressed patients at all stages of illness.
Mayberg is a board certified neurologist, trained at Columbia's Neurological Institute in New York, with fellowship training in nuclear medicine at Johns Hopkins. She received a BA in psychobiology from UCLA and an MD from University of Southern California. She is active in the Society for Neuroscience, the Organization for Human Brain Mapping, the American Neurological Association, the American College of Neuropsychopharmacology and the Society of Biology Psychiatry, where she is a past president. Additionally, Mayberg serves on a wide range of journal editorial and scientific advisory boards relevant to clinical and translational neuroscience.
Among various honors, Mayberg is a member of the Institute of Medicine (IOM) and is the recipient of the Falcone Prize in Mood Disorders Research from NARSAD, the Arnold Pfeffer Prize from the NY Psychoanalytic Institute, the Raymond Adams Award from the American Neurological Association, the Roche-Nature Medicine Senior Award for Translational Neuroscience, the Alexander Award in Psychiatry and the Pasarow Foundation Award for neuropsychiatry.
The AAAS is the world's largest general scientific society, and publisher of the journal, Science as well as Science Translational Medicine and Science Signaling. AAAS was founded in 1848, and includes 261 affiliated societies and academies of science, serving 10 million individuals. The non-profit AAAS (www.aaas.org) is open to all and fulfills its mission to "advance science and serve society" through initiatives in science policy, international programs, science education, and more.
---