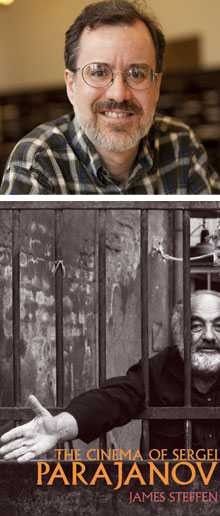 James Steffen, film and media studies librarian at Emory University and a historian of Soviet and post-Soviet cinema, will take part in a conversation with Karla Oeler, associate professor in the Department of Film and Media Studies, about his new book, "The Cinema of Sergei Parajanov," from 6-8 p.m. Monday, Nov. 18 in the Jones Room at Emory's Robert W. Woodruff Library. Steffen's book will be available for sale and signing at the event.
The book looks at the role of nationality in Soviet cinema, how it affected Parajanov's work, and how he struggled to make the films he wanted, in part because of his conflicts with Soviet officials. A 15-minute film by Parajanov, "Kyiv Frescoes" (1965), also will be shown. The newly restored short film was edited by Parajanov from screen tests for a film that he wanted to make, but it was canceled by Soviet officials before it launched into production.  
About Parajanov  
Armenian filmmaker Sergei Parajanov (1924-1990) was critical of Soviet authorities, particularly the filmmaking bureaucracy (the entire industry was controlled by the state), and he paid a heavy personal price—he was jailed three times, the longest from 1973 to 1977. His two best-known films are "The Color of Pomegranates" (1969) and "Shadows of Forgotten Ancestors" (1965).  
Despite his attitude toward the authorities, Parajanov was still able to get several films made, Steffen says: "In the book, I look at the complexities behind that because in some ways, Parajanov also benefitted from the Soviet system. He was able to make art films that the studios wouldn't have passed in Hollywood, but the Soviets funded them because of the cultural importance of their topics."  
For example, "The Color of Pomegranates," Parajanov's film about the 18th century Armenian poet Sayat-Nova, is widely considered his masterpiece. "It was not a commercial project," Steffen says, "but he was able to make it because it was about a cultural figure who was celebrated by the Soviets at that time as a symbol of multinational identity since he wrote poems in three languages."
Steffen says that, in addition to analyzing Parajanov's films, his book looks at archival sources and interviews, as well as published materials from the former Soviet Union, to reconstruct what happened in his career, his relationship with the authorities, and the reasons behind his arrests. He says it is the most comprehensive overview of the filmmaker's work in any language to date.
Parajanov's life mirrored his art  
"One of the things that drew me to this project was Parajanov's fascinating personality – he also created many artworks such as collages, he had a very flamboyant public persona, and he liked to say things to provoke people," Steffen says. "His life was every bit as colorful as his films."  
Parajanov's films are well known and imitated among filmmakers, Steffen says. For instance, Mark Romanek's music video for Madonna's "Bedtime Story" contains some references to "The Color of Pomegranates."  
"Parajanov is a major figure in global cinema, and his films are available on DVD and regularly shown at festivals, but there still isn't very much published on his films in English, and there are a lot of misconceptions about his work," Steffen says. "One of the goals of this book is to bring his work and its impact more to the forefront."  
The Robert W. Woodruff Library is located at 540 Asbury Circle in Atlanta, 30322. Parking is available in the Fishburne deck.  
For event-related information, contact Julie Braun at jkbraun@emory.edu.
---