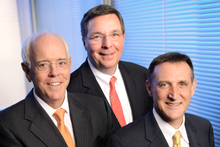 In an effort to increase efficiency while remaining a national model for academic health centers, Emory School of Medicine Dean Christian Larsen and Emory Healthcare CEO John Fox have announced a new overarching initiative: Emory Medicine.  
The School of Medicine and Emory Healthcare will work together under the Emory Medicine initiative to improve effectiveness while maximizing resources in pursuit of their shared missions of patient care, discovery and education.  
A team-based, patient-centered approach is vital, said Larsen in his first annual dean's address, delivered to a packed house in WHSCAB auditorium on Nov. 13. 
He spoke bluntly about the many challenges facing Emory and other academic medical systems.   
Top among these "megatrends" driving change: an aging population with a "tidal wave" of diseases ranging from diabetes to Alzheimer's, threatened clinical and academic revenue streams, health care waste and inefficiency, and crippling levels of student debt (medical students average $170,000 nationally).  
"We have much to be proud of this past year," Larsen said, "including two of Emory's hospitals ranking second and third for quality by University HealthSystem Consortium out of more than 100 major teaching hospitals across the country, external research funding of more than $500 million for Emory as a whole, two new Institute of Medicine members (Hubert Department of Global Health Chair Carlos Del Rio and Professor of Psychiatry Kerry Ressler), and multiple centers and programs of excellence in stroke, autism, cancer, functional glycomics, and neuromodulation, among many others."  
Still, the School of Medicine's operating budget experienced a $4 million shortfall, making a "willingness to embrace new models and new approaches" essential. "We have access to transitional funds to reposition us to not only succeed but to lead," Larsen said. "There must be a move away from traditional norms, structures, expectations, and models of care to a shared vision, integrated leadership and business discipline."  
Reliance on NIH funding, in light of the federal sequestration, must be augmented by attracting new revenue streams from foundations, philanthropy and industry. Fragmented, inefficient care must be replaced by coordinated, standardized, patient-centered care. Internal competition must give way to shared resources, integrated planning and budgeting, and highly-effective care teams.  These concepts must be "not only taught in our classrooms but modeled in our clinical care delivery," said Larsen.  
"The joy of my career has been to practice across disciplines, to work with colleagues and research teams excited about trying to make a difference, to make sure that our research comes alive," he said. "It's not about sustaining departments or rankings, it's about making a difference for our patients' futures."  
A memo from Larsen and Fox, which was sent on Nov. 14 to all faculty and staff in health sciences, conveyed a sense of urgency. It stated that Emory Healthcare and the School of Medicine were under "a real and present threat as we face fundamental and simultaneous revenue and cost challenges" that would entail "changing many of our practices and approaches ... and we must make these changes now."  
"We are confident that Emory Medicine will serve us well in our efforts to successfully address the major financial challenges that we face and position … Emory to emerge as a national leader."  
Emory Medicine was approved by the University Board of Trustees at their June meeting, based on review and favorable recommendations made by Emory's Woodruff Health Sciences Center Board and Finance Committee.
---