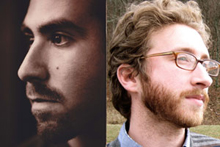 Author David Samuel Levinson, Creative Writing Fellow in Fiction, and poet Malachi Black, Creative Writing Fellow in Poetry, will give a joint reading Tuesday, Nov. 19 at 6:30 p.m. in the Jones Room of the Woodruff Library. The event is free and open to the public.
When they are not giving public readings, the 2013-2015 Fellows in Creative Writing are working to finish manuscripts to submit for publication. They are also gaining valuable teaching experience, working with budding young writers in Emory Creative Writing Program's "Introduction to Poetry" and "Introduction to Fiction" classes.  
These courses, which are among the fastest to fill up during any given registration period, form the foundation for what has been called the number one undergraduate program for writers by USA Today.  
"I've been writing poetry for several years now, but this is my first experience working with a published poet -- and with a professor so invested in the progress of his students' work," says Caroline Schmidt, a student in Black's poetry course.  
Students benefit from working with professional writers who are young, accessible and navigating the world of publishing right now. The fellows expose their students to the skills needed to be a successful author in the 21st century.  
"Since Professor Black is a professional poet, he offers us insight to the career side of poetry writing," says Annabelle Zhuno, another of Black's students.  
The interaction with students is an essential part of the Creative Writing Fellowship, but it can also be one of the most challenging aspects for the fellows themselves. On teaching the art of fiction, Levinson, author of the story collection, "Most of Us Are Here Against Our Will" and the novel "Antonia Lively Breaks the Silence," says, "Writing is a solitary endeavor and it just can't be taught. You can't tell your students how to create a scene, but you can show them the ingredients that go into a successful piece of prose."  
In his fiction class, Levinson emphasizes letting the imagination run wild as a means of bringing a work off the page. "When I get a piece of writing that comes alive, I'm always reminded again about why I myself came to writing and why I continue to do it. There's nothing quite like reading a story from someone who cares about what he's working on."  
Black echoes this point: "My students constantly renew my faith in the inexhaustible possibilities of poetry." He is the author of "Storm Toward Morning," coming in 2014 and two limited edition chapbooks: "Quarantine" and "Echolocation."  
Black urges emerging writers among his students to "be invigorated by poets past and present, never daunted."
---