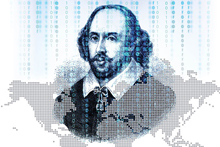 The Commission on the Liberal Arts (CoLA) will present "Emory Engaged: Ongoing Initiatives in Liberal Education," part of a campus dialogue intended to highlight thought-provoking scholarship and teaching around the liberal arts currently being done on campus.  
The program, which is co-sponsored by the Center for Faculty Development and Excellence, will be Friday, Dec. 6 from 3 to 4:30 p.m. in the Jones Room of the Woodruff Library. The event is free and open to the public; a reception will follow.  
The program will feature five panelists who will address liberal arts initiatives they are currently engaged with, including such topics as how to invigorate the undergraduate curriculum, work to integrate residential and academic life, engage students within their communities, and enhance interdisciplinary perspectives on evidence-based learning.  
Speakers will include:  
Sheila Cavanagh, professor of English and co-director of the World Shakespeare Project

Michael Elliott, Winship Distinguished Professor of English and senior associate dean of faculty, Emory College

Vialla Hartfield-Mendez, professor of pedagogy, Spanish and Portuguese and director of engaged learning, Center for Community Partnerships

Harvey Klehr, Andrew W. Mellon Professor of Politics and History and director of the Voluntary Core Curriculum program

Pamela Scully, professor of women's, gender and sexuality studies and African studies, director of the Center for Faculty Development and Excellence, and chair of the Emory Quality Enhancement Plan Committee.
The program is part of a larger effort to nurture campus-wide conversations around the future of liberal arts at Emory. This fall, CoLA was expanded and re-energized, newly charged by Provost Claire Sterk in its mission to take a broad, deep look at liberal arts education at Emory.  
"What we wanted to do with the forum is give members of the university community a sense of what is already being done on campus," says CoLA vice chair Karen Stolley, professor and chair of the Department of Spanish and Portuguese. "Given that there is a history of these programs, we'd like to see how we can build upon that history and increase the synergies going forward."  
The public forum will "highlight what we're currently doing and provide ideas relating to ongoing projects," she adds. "It's a chance to facilitate dialogue and ask presenters what they have learned about the opportunities and challenges at Emory around doing this kind of work, particularly as we think about integrating it more broadly across the University."
---