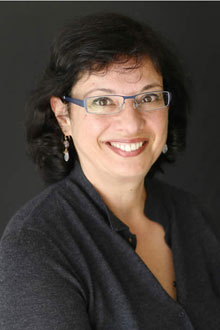 Sonia Nazario, the veteran journalist whose 2003 Los Angeles Times newspaper series "Enrique's Journey" won Pulitzer Prizes for feature writing and photography, will speak Nov. 7 at Emory University. Her presentation, "The American Immigration Battlefield: 'Enrique's Journey' and the Search for a New Path to the Future," comes as the White House and Congress appear to be preparing for another battle on immigration reform.
The event is scheduled for 7 p.m., at Emory's Center for Ethics, on the university's main campus, 1531 Dickey Drive, Atlanta. It is free and open to the public. Nazario's book, "Enrique's Journey," based on the newspaper series, will be available for purchase and the author will autograph copies.
Nazario's Emory itinerary also includes "Public Scholarship at the Border: A Conversation with Sonia Nazario," hosted by the Center for Women at Emory. Free and open to the public, the dialogue is scheduled for 1:00-2:00 p.m., Nov. 8, in Candler Library, 550 Asbury Circle, on the Emory campus. The Center for Women invites academics, students and others to join an "exemplary public scholar and thought leader" for a conversation on "engaging with the media as a tool for affecting change in our communities."
About 'Enrique's Journey'  
Raised in Kansas and Argentina, Nazario spent 20 years as a journalist covering urgent social issues, including hunger, addiction and immigration. Her book tells the story of Enrique, a 16-year-old Honduran boy, on his odyssey of 122 days and 12,000 miles to find his mother in the United States. The story won more than a dozen awards and became a national bestseller. It has been designated as required reading in scores of colleges and high schools across the country, published in a young adult version, and translated into several languages.
Immersion Journalism  
"Emory University is incredibly fortunate to have Sonia Nazario visiting our campus and especially so when the debate over national immigration policy appears likely to take center stage again," says Hank Klibanoff, director of the university's journalism program. "Ms. Nazario provides an informed, realistic and clear voice in the immigration debate, a voice that emerges from both personal and professional experiences." 
Those experiences are rooted in "immersion journalism," according to Klibanoff. "For example, in gathering the stories that led to 'Enrique's Journey,' Ms. Nazario lived and traveled with migrants in two separate trips over three months," he says. "She was with them mile after mile as they tried every imaginable way to reach the United States—on occasion at great personal risk, including riding atop fast-moving trains."
Latino Youth Leadership Conference  
Nazario's visit is associated with a series of events culminating Nov. 9 with the 14th annual Latino Youth Leadership Conference. The gathering drew 1,700 attendees last year, including students from more than 50 high schools across Georgia, along with parents, teachers and volunteers.
The Latin American Association, which sponsors the conference, describes it as "an exciting day full of high energy, inspiration, motivational speakers, practical tips for college, workshops and a college and career fair…the catalyst for Georgia Latino youth to pursue their educational goals and improve their chances of success." The conference is hosted by Emory University.
---