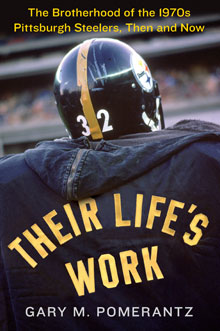 Author and journalist Gary Pomerantz will visit the Emory University campus for an author talk about his new book, "Their Life's Work: The Brotherhood of the 1970s Pittsburgh Steelers, Then and Now," a narrative about the team that won four Super Bowls, on Thursday, Nov. 7 at 4 p.m. in the Jones Room at Emory's Robert W. Woodruff Library.
"Their Life's Work" follows the storied team across the decades and examines what the game of football gives to players and what it takes from them, the personal bonds among the players, and their lives after football. Pomerantz conducted more than 200 interviews for the book and has said that every player told him that, despite the costs, they would do it again. The book will be available at the event for sale and signing.
Pomerantz is the author of four books, as well as a visiting lecturer in the communications department at Stanford University. His books include the New York Times Notable Book of the Year, "Where Peachtree Meets Sweet Auburn" (1996), about Atlanta's historic rise and racial conscience, and "Wilt, 1962: The Night of 100 Points and the Dawn of a New Era," about Wilt Chamberlain's 100-point game against the New York Knicks. 
A former Atlanta Journal-Constitution writer, Pomerantz was a distinguished visiting professor of journalism at Emory from 1999-2001, and his papers, including notes and interview tapes from his books, are housed in its Manuscript, Archives, and Rare Book Library (MARBL). Randy Gue, curator of Modern Political and Historical Collections, has recommended "Where Peachtree Meets Sweet Auburn" as one of the best books on Atlanta history.
"Gary is really a gifted writer, historian and journalist," Gue says. "His work fits in well with the MARBL collections and our focus on Atlanta history, on race, and African Americans in sports."
Pomerantz is an adept storyteller regarding issues of race and sports, both with "Wilt" and now with "Their Life's Work," says Pellom McDaniels III, faculty curator of MARBL's African American Collections.
"The book addresses a number of issues—the idea of camaraderie, the culture of spectatorship and the mutually beneficial relationship between a city and its professional sports teams," McDaniels says. "It's an important text as it relates to the development of professional football, especially in a blue collar city like Pittsburgh, where the team reflected the character of the city. Gary's work will appeal to anyone interested in professional sports and how they impact communities, and how communities impact the teams and players."
The Robert W. Woodruff Library is located at 540 Asbury Circle in Atlanta, 30322. Parking is available in the Fishburne deck.
---