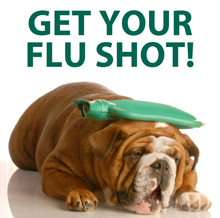 "Do your part to stay healthy and prevent the flu by getting a flu shot," says Paula Gomes, executive director of the Faculty Staff Assistance Program.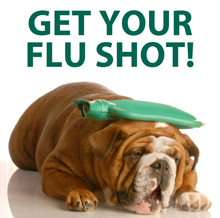 Emory is offering several options for getting a flu shot this year. These options include Kroger pharmacies, doctor's offices or other pharmacies that will accept an Express Scripts prescription drug card.
View a quick guide to Emory's flu shot options.
"In order to be protected against seasonal influenza, you must get a flu shot each and every year," explains Gomes.
The 2013-2014 vaccine will protect against three different flu virus strains: influenza A (H1N1) virus, influenza A (H3N2) virus, and influenza B virus.
Gomes adds, "Circulating flu viruses change every year, and therefore so must the vaccine used to prevent them. Even if you got the H1N1 vaccine — or the H1N1 illness — last year, you need to be vaccinated again this year to protect your body."
All Emory employees who work in an Emory Healthcare setting are required to get a flu shot or complete a medical or religious exemption form. Emory Healthcare is currently holding its annual flu shot marathon, where employees can get a shot along with the required verification documentation. Those who use one of the other methods to obtain the shot should get the documentation and send it to Employee Health for validation.
The Centers for Disease Control website has answers to frequently asked questions about influenza, flu shots and the 2013-14 vaccine at www.cdc.gov/flu. Emory's Flu Shot Campaign extends through Jan. 31, 2014.
---