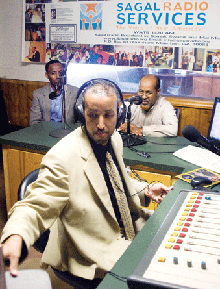 A night of radio and entertainment marks the Sagal Radio Annual Friends Celebration on Tuesday, Oct. 8, at 7 p.m. in the Clarkston Community Center in Clarkston, Ga.
Sagal Radio aims its programming primarily at listeners newly arrived in the Clarkston area from East Africa and South Asia.  As a significant supporter, Emory's Center for Community Partnerships (CFCP) is a co-sponsor of the celebration.  
Derreck Kayongo, a Top 10 CNN Hero of 2011, is the special guest speaker at the celebration for the community-based station's listeners, broadcasters and supporters. Kayongo heads the Global Soap Project, which takes partially used hotel soap and reprocesses it for use in underserved countries.  
Dinner, featuring the cuisines of the listening audience,  will be served and entertainment will showcase music and dance from around the world. A silent auction and raffle will also be held for a variety of local services and global products.  
General admission tickets are $10. Local and community sponsors are being sought at $25 and $50 a ticket respectively.   Nonprofit Sagal Radio Services delivers programming via radio broadcasts and online to immigrants and refugees in six languages: Amharic, Bhutanese/Nepali, English, (Burmese) Karen, Somali and Swahili.
"Emory faculty, staff, and students have learned much working with Sagal and its director, Hussien Mohamed, for the past six years on the HEARMe collaboration and other projects that engage, educate, and empower new Americans," said Michael Rich and Vialla Hartfield-Mendez in a letter to the Sagal board of directors.  Rich is executive director and Hartfield-Mendez director of engaged learning for CFCP.
They note that the partnership has provided mentoring opportunities for students in Emory's Master of Development Practice program and opportunities for students to learn about issues facing new Americans.
---