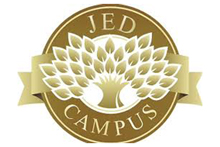 Emory is among a select group of colleges and universities to earn the first "seal of approval" from the Jed Foundation in recognition of its comprehensive campus mental health services and suicide prevention programs.  
The University is one of 30 institutions of higher education across the nation to receive the inaugural JedCampus seal. Valid for two years, the designation recognizes excellence in campus mental health services.  
The distinction is part of the organization's JedCampus program, thought to be the first nationwide program designed to "facilitate a school's ability to assess and enhance their mental health support system from a campus-wide perspective," according to a news release announcing the awards.  
"These schools have shown they employ a comprehensive, community-based approach to mental health care, which will result in the identification of and care for more at-risk students," says John MacPhee, executive director of The Jed Foundation, a national nonprofit that promotes emotional health and suicide prevention among college students.  
"We believe that the implementation of a campus-wide approach to mental health promotion will lead to safer, healthier campuses, and possibly greater student retention," he adds.
Emotional health and mental illness are a particular concern among college-age students, according to MacPhee. The American College Health Association reports that key stumbling blocks to student success include stress, sleep difficulty, concern for a friend or family member, anxiety/depression, and alcohol abuse — all issues that could be addressed with high-quality mental health programming.
To Emory mental health providers and volunteers, the recognition is a welcome endorsement, says Mark McLeod, director of Counseling and Psychological Services (CAPS) who also oversees the Student Counseling Center, which marked its 30th anniversary last year.
"For the staff, this means a lot – it's external validation for all the hard work they do, which is often very intense, emotional work," McLeod says.
"And I think it means a lot to the University," he adds. "It just speaks to the kind of community we belong to."
The award also represents an important moment in the evolution of mental health services at Emory — a history that took a bold turn in 2008 when students were asked to pay a mental health and counseling fee, which now runs about $57 a semester, McLeod says.
Though unusual at the time it was implemented, that fee raised both awareness and revenue that has helped fuel student services and proactive, prevention-based programming on campus, he says. "It quickly put Emory in a different, forward-thinking category from other colleges and universities."
Over the years, seeking additional outside grant support "allowed us to do some pretty innovative things that helped further what we were already doing, using a 'community-psychology' prevention-oriented program,"which McLeod defines as "not just waiting for people to come to you, and then provide a service, but to go out into the community and form relationships that will help identify students at risk."
As a result, he believes that Emory is developing into a community that is much "more knowledgeable about mental health issues," he says.
To be considered for the JedCampus seal, participating schools took a voluntary, online self-assessment reviewing their campus mental health and suicide prevention programming.
McLeod credits Emory alumna Linda Gross for initially encouraging the University to be evaluated for the award, and psychologists Jane Yang, CAPS assistant director of outreach, and Mahlet Endale, CAPS suicide prevention coordinator, for completing Emory's application for the certificate.
In selecting its first honorees, the Jed Foundation compared applicant responses to its recommended practices in mental health programming, developed by the Jed Foundation and Suicide Prevention Resource Center.
---