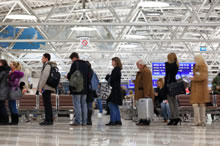 The Emory Autism Center and Hartsfield-Jackson Atlanta International Airport are teaming up to train airport employees to assist individuals with Autism Spectrum Disorder.
This first-of-its-kind training program at Hartsfield-Jackson airport was initiated by Lauren Castriota, PsyD, psychologist with the Emory Autism Center, as part of the center's AWARE initiative.  AWARE stands for Advocate With Autism Resources and Education, and the initiative is a comprehensive training program intended to educate the community about Autism Spectrum Disorders.
Navigating an airport and boarding a plane can be a stressful and often overwhelming experience for people with autism and Castriota recognized the need for trained people to assist people with autism while traveling.
"I want to help make the world a more sensitive place for people on the autism spectrum," says Castriota. 
The half-day training will take place at the airport and will be led by Castriota. After completion of the program, airport employees will be given lapel pins that identify them as individuals sensitive to the needs of people with autism spectrum disorder. In addition, the participants will receive ongoing support from Castriota in the form of biweekly email check-ins.
Any employee of the airport who comes in contact with the public is eligible for the training, including TSA agents, airline employees, customer service representatives and restaurant workers. Lisa Bausley-Williams, training specialist for the Department of Aviation, says there has been a lot of interest and she expects to fill all 50 available slots. 
"I think the greatest benefit is awareness, " says Bausley-Williams. "The better we can serve our broad base of customers, the better our customer service will be overall."
This is the second collaboration between the Emory Autism Center and the Atlanta airport. In September 2011 the airport hosted a small group of young people with autism to help them get used to the process of flying, from ticketing to navigating through security to boarding a plane. It was the success of that effort that led to the training program.
For more information on AWARE, or to sign up for your own training, contact Dr. Lauren S. Castriota online or at eac_aware@emory.edu.
About the Emory Autism Center
The Emory Autism Center is a component of the Department of Psychiatry and Behavioral Sciences at Emory University School of Medicine. Joseph F. Cubells, MD, PhD, is the director of medical and adult services. The program was opened in 1991 as a public, private and University collaboration. Its mission is to help Georgia's people with autism reach their highest potential.
---