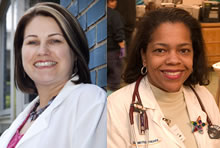 The Helene Fuld Health Trust has donated $6.5 million to establish an innovative palliative care fellowship program at Emory University's Nell Hodgson Woodruff School of Nursing and the Emory Palliative Care Center. The program aims to develop nurse leaders who can make an impact in palliative care, an area of health care that is rapidly growing as more Americans are facing life-threatening and chronic illnesses.
This grant will create the Fuld Palliative Care Fellowship Program to prepare nursing students to work collaboratively with physicians, social workers, physical therapists and chaplains to provide specialized holistic palliative care, which is a unique care model that provides patients with relief from the symptoms, pain and stress often associated with serious illnesses, with the ultimate goal of improving the quality of life for patients and their families.
This grant will provide program support and scholarships to select students each year to become immersed in palliative care clinical initiatives, research and policy development by working with the Emory Palliative Care Center, an organization that provides team-based palliative care to nearly 5,000 adult and pediatric patients each year. The new program will enroll its inaugural cohort of students in Summer 2014.
"The Fuld Palliative Care Fellowship program will be vitally important to preparing our students to be clinical leaders in delivering palliative care," says Linda McCauley, RN, PhD, dean of Emory's School of Nursing. "This fellowship program will serve as a national model for preparing nurses alongside other professionals to provide high-quality care to patients."
"This fellowship is transformative in the training of nurses seeking careers in palliative care. Palliative care advanced practice nurses are central to the success of our interdisciplinary clinical teams and the delivery of the highest quality comprehensive care," says Tammie Quest, MD, director of the Emory Palliative Care Center. "These Fellows will define the key research question in the field and innovate in the area of education to students of all disciplines. They will be role models to others in their clinical knowledge, skill and contributions to the field to ensure patients and families facing serious illness have the highest quality care focused on quality of life."
###
About the Helene Fuld Health Trust
The Helene Fuld Health Trust is the nation's largest private funder devoted exclusively to nursing students and nursing education. Its mission is to support and promote the health, welfare, and education of student nurses.
---