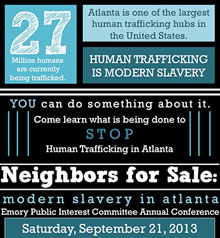 The Emory Public Interest Committee Conference, "Neighbors for Sale: Modern Slavery in Atlanta," will be held Saturday, Sept. 21, at Emory University School of Law.
The daylong event will feature keynote speaker Georgia Attorney General Sam Olens, Emory Law class of 1983.  
Subsequent panel sessions will examine the reality of human trafficking in the metro area, local government and nongovernment organizations' responses, and how the legal community can take further action to end this form of modern slavery. Organizers also will provide opportunities for action through volunteering with victims' groups or legislative work.  
The 10th annual, student-run conference will also feature investigators and attorneys who seek justice in criminal trafficking cases; healthcare professionals and charities who identify, rescue and care for rescued victims; and students, lawmakers and lobbyists working to improve state laws on trafficking.
Panel experts include:
Vernon Keenan, director, Georgia Bureau of Investigation

Joel Thornton, chief of staff, Georgia Department of Education

Camila Wright, senior assistant district attorney, Fulton County

Dalia Racine, assistant district attorney, DeKalb County

Mary Frances Bowley, founder, president, CEO, Wellspring Living
The conference will be held from 9:30 a.m. to 4:45 p.m. in Emory Law's Gambrell Hall. For more information, visit the conference website.
The conference is open to the public, but registration is required. Registration is open through Sept. 16, and admission is free for the first 175 attendees. Afterward, a $15 registration fee will be charged.  
---