As I looked around at the high school students who had gathered to hear a group of education and theology students from Oglethorpe University and Emory University's Candler School of Theology instruct them in the theory and practice of Kingian Nonviolence, I was struck by the seeming incongruity.
For the past 20 years, I have been and remain a law enforcement officer--from being a member of a SWAT team, to undercover, to my current position in the FBI. Recently, I also returned to graduate studies as a theology student at Candler. Today I am teaching high schoolers about nonviolence.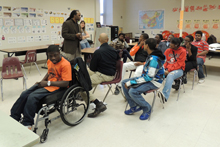 Students and facilitators participate in a simulation of Rosa Parks' refusal to give up her seat on a city bus in Montgomery.
Unfortunately, my previous encounters with these children (or those like them), their older brothers and sisters, and even some of their parents, often involved the opposite of non-violence. Too often in my work I encounter these youth either as victims or perpetrators of violence. I have watched our schools abandon their responsibility for maintaining the fundamental elements of discipline, relying instead on law enforcement when things went too far. Such an approach simply grooms our youth to engage in unacceptable behavior until it warrants the attention of law enforcement. In such instances, students receive convictions, not correction.
Are we teaching them to prepare for the legal system? Or should we teach them the skills to resolve differences with others, to maintain self-control, and to weigh the consequences of their actions? To accomplish the latter is why my colleagues and I were here. I do not want violence to be the reason I encounter these children. I would much prefer to meet them in other venues—in church, in gainful employment, or volunteering to improve their communities.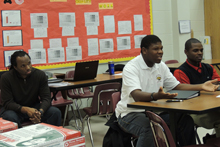 Students engage in discussion while a facilitator looks on.
So, there we sat a classroom in Maynard Jackson High School. We already had spent several weeks in training under the mentorship of Dr. Bernard Lafayette, a former assistant to Dr. King and Distinguished Senior Scholar-in-Residence at Candler. Following this training, we worked to adapt what we had learned to prepare a curriculum focused on training conflict resolution to high school students in need of mentoring and guidance.
As we met the students for the first time, we recognized that we were taking a risk. We had no sense of how the students would respond or what would be the result. To our delight, the risk we took returned something priceless.
The students who participated in the program spanned the school's spectrum of disciplinary issues and academic accomplishments. This made it all the more amazing to witness their learning experience evolve as we taught Kingian Nonviolence. The principles of nonviolence sparked an excitement about the knowledge they were gaining and a desire to learn more. The level of passion was made manifest as the students began to recruit and encourage other students to attend the class. By the end of the semester, the class had doubled in size.
Just as the students struggled to digest the deeper meaning and application of Dr. King's philosophy on nonviolence, we learned patience as we labored over how to reach the students. The team endlessly toiled to create a fertile environment in order to produce a group of students capable of sharing their knowledge with others committed to establishing Dr. King's "Beloved Community." At the conclusion, it was an eye-opening experience demonstrating endless possibilities.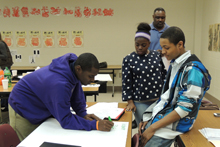 Three Maynard Jackson students work to define violence.
The students from Maynard Jackson described the program as a fun, educational and valuable opportunity to learn about Dr. King as well as the Civil Rights Movement. The program inspired the students to change, to view conflict from a different perspective. Many of the students talked about how they had implemented these changes into their personal lives. Others discussed how their altered perspective is contributing to their desire to work to change the world.
The investment we made in these youth returned an invaluable profit. To invest in our youth today will ensure our future tomorrow. The interaction between us and the students at Maynard Jackson High School left an indelible mark on all involved.  It forever changed our views on how we resolve our differences and ultimately on how to make individual lives better and the world a better place.
Alex Hill is Supervisory Special Agent (SSA) for the Atlanta Division of the FBI, and a part-time student at Emory University's Candler School of Theology.
---