Theater Emory's productions in recent years show a commitment to producing tomorrow's theater visionaries. This is being done by grounding students with theatrical masterpieces while turning their gaze to the future through the production of innovative new work.  Nowhere is this unique approach more evident than in "I am not that I play (gender and disguise)," opening Sept. 26 as the first production of Theater Emory's 2013-2014 season.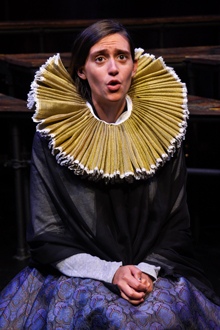 Maya Hubbard in "I am not that I play." Photo by Daniel Weiss.
An original adaptation of five Shakespearean classics, the production follows Shakespeare's female heroines who disguise themselves by dressing in the clothes of a boy in what are known as "breeches" roles. By juxtaposing the characters and circumstances that surround the decisions to put on short trousers or "breeches," director and adaptor Tim McDonough launches audiences into an investigation of identity and confusion, fidelity and betrayal, freedom and constraint, appearance and reality, and the urge to both conceal and reveal oneself.
"You might think of characters in these plays (and actors in this project) as shape-changers," explains McDonough. "In Shakespeare's day, actors were sometimes referred to in terms of Proteus, the sea-god of Greek mythology who is capable of changing shape at will. Proteus is an image of identity confusion and of self-fashioning."  
"I am not that I play (gender and disguise)" takes its title from words spoken by Viola, one of Shakespeare's most celebrated heroines and a "breeches" role from "Twelfth Night." Along with Viola, this production explores characters from "As You Like It," "Cymbeline," "The Merchant of Venice," and "Two Gentlemen of Verona" in an attempt to find commonality in the plays and discover how they might throw light on each other.  
"If you believe, as I do, that we perform our very selves, then this project is about identity and performance. Whether the identity played is appearance or reality is a matter of confusion for these characters, and the confusion is not only about others, but also about themselves," says McDonough.  
Theater Emory presents "I am not that I play (gender and disguise)" Sept. 26-28 and Oct. 3-5 at 7 p.m. and Sept. 29 and Oct. 6 at 2 p.m. in the Theater Lab of the Schwartz Center for Performing Arts. Tickets ($18 general admission; $14 discount category members; $6 Emory students) are available at the Arts at Emory box office at 404-727-5050 or arts.emory.edu.
---