Music at Emory offers a melodious start to this semester with a wide variety of performances and programs throughout September. Plan to attend a concert on the weekend, or take a break midday and enjoy a free performance.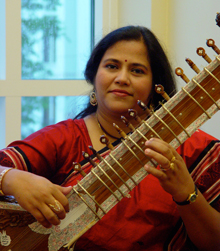 Emory Artist Affiliate Kakali Bandyopadhyay.
Emory Artist Affiliate Kakali Bandyopadhyay, sitar, will perform with Anjaneya Sastry, tabla, on Saturday, Sept. 14 at 8 p.m. Bandyopadhyay will perform several sitar pieces of the North Indian Classical tradition.
Dane Philipsen, oboe, will be playing on Sunday, Sept. 15 at 4 p.m. Philipsen is an artist affiliate at Emory, and is the principal oboist for the Atlanta Opera and the Georgia Symphony Orchestra. His program will include pieces by Debussy, Schumann, Lutoslawski and several other 20th century composers. He will be joined by clarinetist David Odom and pianists Laura Gordy and Jeremy Samolesky.
On Saturday, Sept. 21, the Atlanta Music Festival Gala Concert will be taking place in Emerson Concert Hall at 7 p.m., as part of the weeklong Atlanta Music Festival. A collaboration of the Meridian Herald, First Congregational Church, Emory University and other community partners, the festival includes several lectures and conversations to be held at Emory, in addition to Saturday's Gala Concert. The concert will feature artists such as soprano Laquita Mitchell, tenor Timothy B. Miller, the Morehouse College Glee Club, the Vega String Quartet, the First Congregational Church Chancel Choir and the Meridian Chorale. Tickets are $25, $5 for students.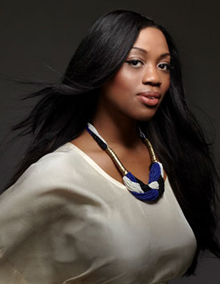 Soprano Laquita Mitchell.
Visiting artist Philip Glass will be featured in a Creativity Conversation on Wednesday, Sept. 25 at 2:30 p.m. World-renowned composer Glass and Emory Director of Orchestral Studies Richard Prior will discuss composition and creativity.
On Friday, Sept. 27 at noon, the Vega String Quartet will be performing 20th Century String Quartet Masterpieces in the Michael C. Carlos Museum Reception Hall. Emory's string quartet in residence will be performing works by Ravel, Bartok, Shostakovich, and Glass' Quartet No. 5.
As part of the Flora Glenn Candler Concert Series, An Evening of Chamber Music Featuring Philip Glass and Tim Fain will be Friday, Sept. 27 at 8 p.m. Glass has written music for opera, experimental theater and Academy Award-winning films, and his collaborations date back to the 1960s. In his Emory recital, Glass performs with violinist Fain, who was heard on the soundtrack of the film "Black Swan." Tickets are $65; $52 discount category members; $10 Emory students.
---