September is Emergency Preparedness Month – as every month should be – and the preservation team at Emory Library and Information Technology Services wants the campus community to know they are ready for nearly any disaster or emergency that threatens the university's books, collections and records.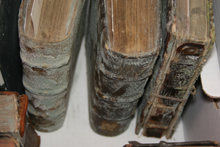 Photo by Myron McGhee, courtesy of Robert W. Woodruff Library.
When it began in 1986, the preservation office at Emory's Robert W. Woodruff Library was one of the first in a library in the Southeast. The preservation team is composed of collections conservator Ann Frellsen and conservation technicians Julie Newton and Kirsten Wehner. They work frequently with rare materials from the Manuscript, Archives, and Rare Book Library (MARBL) and Pitts Theology Library, so they are particularly concerned with keeping those collections protected, but they also work to keep the entire Emory Libraries collection safe, including materials at its storage library.
Preservation team members are specialists in mold, water damage, and pest management (they can even identify bug droppings). The three regularly attend seminars and are trained in using respirators and protective gear for mold removal. They also monitor the temperature, dew point and relative humidity in critical collection areas such as MARBL and Pitts.
Having an in-house preservation team at Emory is an enormous benefit to the university.
---