The Emory Dance Program's 2013-2014 season, "Body of Knowledge," explores the evolution of movement languages, from Nikinksy's "The Rite of Spring" to the unique perspectives of movement that emerge from faculty, guest artists and student choreographers.  
Movement workshops  
During the fall semester, the Dance Program will offer a series of free workshops led by Emory Dance faculty, titled "A Moving Exchange." This series will include a Gyrokinesis Movement Training class with Sally Radell on Tuesday, Oct. 1, an Iynegar-based yoga class with Anna Leo on Tuesday, Oct. 29 and an open workshop, "Dance and Music: Workshopping the Love Affair" with George Staib on Tuesday, Nov. 5.  
"Knowledge acquired through an 'embodied' approach has an enduring impact, because students gain more self-knowledge and they make connections to society and culture, psychology and politics, language and history," says Lori Teague, chair of the Emory Dance Program.  
Film and dance viewings  
The Dance Program will present two evenings of video viewings as part of the Dance for Reel series. On Tuesday, Nov. 12, Emory dance faculty member Gregory Catellier and Seattle-based dance and media artist Jeff Curtis will curate an evening of pieces that illustrate how particular filmic conventions are applied in the field of screendance. A second evening of contemporary dance on film will take place Tuesday, Feb. 4.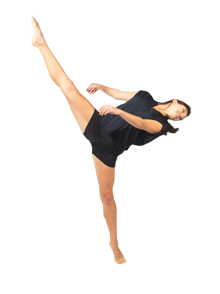 Emory Dance Company  
The Emory Dance Company brings excellence to the stage on Nov. 21-23, performing contemporary, innovative work by nationally renowned choreographers. This year, guest artists are Emily Johnson of Catalyst Dances and Kristin O'Neal, professor at University of Florida.   
Johnson will work to create a state of readiness and awareness through improvisation so that dancers have access to a physical intelligence and a connection to the environment.  
O'Neal is re-staging "Quiet Vespers," an abstract work inspired by a recording of her brother's young voice. Beautiful, full-body dancing portrays the relationship between three connected individuals and the supportive influence of their extended family.  
Anna Leo is inspired by the idea of community among various animals-- how they group, or disperse, and their proximity to each other. George Staib takes a magnifying glass to the moment before we make momentous decisions. How do we maintain equilibrium and discover what lies beyond the discomfort of change? Lori Teague is creating a dramatic work of poetic imagery with movement that is continuous and full of contrasting qualitative states and relationships.    
The Spring Concert, April 24-26, will capture the original movement research of student choreographers.  The Emory Dance Company performs a versatile repertory that is masterful and authentic.    
Catellier Dance Projects
On Dec. 6-8, Gregory Catellier will present "pre-suf-fixes: Catellier Dance Projects," an insight into his creative process by exemplifying a transformation of concepts that cut across personal, social and political layers. Burnaway magazine has described pre-suf-fixes as "…energetic, witty, smart, engaging work that, like its predecessors, contemplates weighty issues from a smartly personal, transparently accessible, and deeply funny place." The project looks at extraordinary moments from the past three evening-length works: "Tempo, …the final frontier," and "E," alongside the trajectory of his next evening-length work, "Corpus Mysteriis."  
Theater Emory collaboration
In the spring, the Dance Program collaborates with Theater Emory to present "Free/Fall: Exploration of Inner and Outer Space." Directed by Theater Emory artistic director Janice Akers, Theater Emory collaborates with choreographers George Staib and Lori Teague and composer Kendall Simpson to present a performance project that begins with the notion of a man falling 24 miles from space and the impulse to "go ahead and jump." "Free/Fall" explores human nature, risk, relationships, flight, and how we may be like the forces of the cosmos, April 3-6 and April 9-13. 
For more information on these events and others, visit arts.emory.edu or call the Arts at Emory box office at 404-727-5050.
---