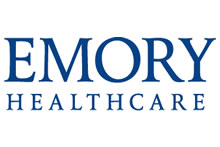 Emory Healthcare, Georgia's largest and most comprehensive health care provider is working to engage consumers and practitioners in one of today's most important dialogues — healthcare. 
Using the theme "We're all in this together" Emory Healthcare (EHC) begins a series of television, print and digital ads that that ask questions about what's impacting the health care industry today and in the future. Those ads start running on Sept. 5. 
"Our new tag line, 'We're all in this together," says it all," says John Fox, president and CEO of Emory Healthcare. "First, we are committed to our patients and their families. Second, we are committed to working together to succeed as an organization. And third, as an academic medical system, we are making strides daily to affect the future of health care."
The ads also introduce a new logo for Emory Healthcare, and Fox points out that the logo is one part of a comprehensive brand initiative. "This is not just a new logo, signage, or new ads. This is about who we are, how we are able to reduce costs while continuously improve quality and where we are going as an organization."
| | |
| --- | --- |
| |   |
| This photo demonstrates the new branding as well as some changes to hospital names, such as Emory Saint Joseph's Hospital. For more information on the branding, name changes and campaign philosophy, see  http://emorytogether.org. |   |
The new Emory Healthcare brand encourages all EHC employees to continue working to make a difference in every interaction with patients, families and colleagues. It also encourages employees to treat everyone like family, to hold colleagues to the highest standards, and always seek to improve.
"Emory's Care Transformation Model, which was established in 2009 is based on delivering a quality promise aimed at a redefining and continuously improving the experience of our patients, their families and visitors," says Fox.
Emory Healthcare's commitment to quality has been a strategic goal for several years. Emory Healthcare is the only health care system in the nation to have two hospitals ranked among the top 10 academic health systems in America for quality and accountability by the University HealthSystem Consortium (UHC).
"There is no secret sauce to building a culture of quality," says Fox. "It is the result of years of intense work, scrutinizing and improving the quality and safety of care we provide and never accepting 'good enough.' It is the result of teams across our entire organization that have firmly resolved to do better each day for our patients."
"We believe these updates, improvements and changes will take Emory Healthcare to the next level of care and commitment for our patients, their families and our staff," explains Fox.
About Emory Healthcare Network
The Emory Healthcare Network is the only health network in Georgia that brings together a full range of hospitals, clinics, local practices and Georgia's only National Cancer Institute designated center in order to provide patients better, more collaborative care to service all of their medical needs. The Emory Healthcare Network is currently comprised of six hospitals, 200 delivery sites and over 1,800 physicians.
---