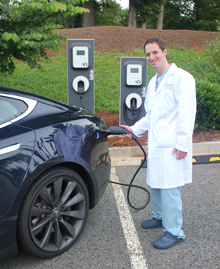 Emory Johns Creek Hospital is offering patients and visitors a new service like no other hospital in Georgia. The hospital has installed six charging stations for electric vehicles (EV), offering patients, families and visitors the opportunity to charge their car while at a doctor's appointment or visiting someone in the hospital.  
The Level 2 240-volt Blink charging stations are compatible with most electric and hybrid plug-in car models. ECOtality, Inc., a leader in clean, electric transportation technologies, manufactures the charging stations.  
The hospital is offering vehicle charges for patients and visitors. Car owners can use their personal Blink Cards to pay for the charge.  
"At Emory Johns Creek Hospital, we try to be environmentally conscious as possible," says Laurie Hansen, associate administrator at Emory Johns Creek, who oversees operations at the hospital. "Electric and hybrid cars are the wave of the future and we want to be ahead of the curve. The charging stations are a great service for patients and family members who have EVs, especially if they will be at the hospital for a long time period."  
Shawn Tritt, MD, an anesthesiologist at Emory Johns Creek Hospital is excited about the new installation of the EV charging stations. Tritt drives a 2013 blue Tesla.  
"Because I spend hours at the hospital taking care of patients, it is nice to have the option of charging my car while I work," says Tritt. "Our patients and other visitors should really enjoy this service, as well."  
To purchase and install EV charging stations, Emory Johns Creek Hospital took advantage of federal tax incentives under the Federal Alternative Fuel Infrastructure. This incentive allows businesses to deduct up to 30 percent of the cost of the charging stations and their installation, if purchased and install by the end of 2013. Because of the federally funded project to increase the use of electric vehicles, Emory Johns Creek Hospitals received its charging stations at no charge, and paid a discounted rate for installation.  
"The EV charging stations are a win-win for both the hospital and the community," says Hansen. "We are pleased to be the first hospital in the state to offer this service to our patients, visitors and staff."
---