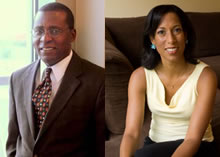 The National Institutes of Health (NIH) has awarded a five-year grant of $11.9 million to researchers at Emory University to study the HIV epidemic among women as part of a recent expansion of the Women's Interagency HIV Cohort Study (WIHS).  
The NIH established the WIHS in 1993 at six sites primarily in the Midwest, West Coast, and East Coast to study women who are either HIV-infected or at risk for infection. The award to Emory, creating one of four new clinical research sites for the first time in the South, opens new opportunities to advance women's health research in HIV/AIDS in Atlanta and Georgia.  
The focus of the Emory WIHS research will be HIV/AIDS secondary prevention for women through immunological, clinical/translational, pharmacological, epidemiological and behavioral research and clinical interventions.  
Co-principal investigators of the grant at Emory are Igho Ofotokun, associate professor of medicine (infectious diseases) at Emory University School of Medicine, a staff physician at Grady Health System and a clinician scientist with the Emory Center for AIDS Research (CFAR), and Gina M. Wingood, Agnes Moore professor of behavioral sciences and health education at Rollins School of Public Health. Dr. Wingood is co-director of the Prevention Science Core for the Emory CFAR.  
"Due to the size of its HIV epidemic relative to other parts of the South, Atlanta and rural Georgia will serve as an ideal location to engage HIV-infected and at-risk women into the WIHS," says Ofotokun. "Emory is at the forefront of HIV/AIDS research, spearheading cutting-edge work in various aspects of the epidemic. Inclusion of Emory in the WIHS will broaden the WIHS' scientific agenda to include areas in which Emory researchers are recognized leaders nationally and internationally."  
Emory has proven expertise and experience in engaging and working with at-risk and HIV-infected women, and for many years has been a site for other NIH supported networks, including the HIV Vaccine Trials Network (HVTN), HIV Prevention Trials Network (HPTN), and AIDS Clinical Trials Group Network (ACTG), and it has state-of-the-art clinical/translational, basic and behavioral research capacity in women's health and HIV-infection.  
Clinical care at Emory and affiliated facilities includes nearly 8,000 HIV-infected patients. Through long-standing collaborations among Emory investigators, county health departments, and community-based organizations, the WIHS at Emory will have access to a large pool of potential research participants representative of the HIV/AIDS epidemic among women in underserved communities in Atlanta and rural Georgia.  
More than 56,000 people become infected with HIV each year in the U.S., with 600,000 U.S. deaths from AIDS over the course of the epidemic. The U.S. epidemic has evolved over time to become a more generalized heterosexual epidemic, with rising rates of infection among women, particularly minorities. HIV is now the third leading cause of death for African-American men and women ages 35-44, according to the Centers for Disease Control and Prevention (CDC). In 2007 the CDC reported that 40-50 percent of people with AIDS in the U.S. lived in the South.  
"Understanding the demographics of the HIV epidemic and formulating prevention and treatment goals in specific areas of the country is critical to improving outcomes and controlling this infection," says Wingood. "Our new Emory WIHS site will expand this important NIH-sponsored research and optimize prevention and treatment in our severely impacted area of the country."  
The WIHS is primarily funded by the National Institute of Allergy and Infectious Diseases (NIAID) of the NIH, with co-funding from the Eunice Kennedy Shriver National Institute of Child Health and Human Development (NICHD), the National Cancer Institute (NCI), the National Institute of Mental Health (NIMH), and the National Institute on Drug Abuse (NIDA).
---