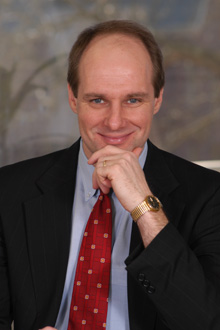 The Journal of Law and Religion, long the flagship publication in the field, will move to the Center for the Study of Law and Religion (CSLR) at Emory University School of Law in August 2013.
"We are pleased to serve as the new editorial home for the Journal," says John Witte, Jr., CSLR director and new co-editor of the Journal. "As our center expands its geographical and topical reach, the time is ripe to welcome the Journal and make it the leading international journal in the field."
With a refreshed editorial direction that invites the best scholarship from around the world, says Witte, articles will address broader legal issues in the world's religions and cultures, including the place of law in religious canons, sacred texts and religious traditions; and the place of ritual and liturgy in the operation of state legal and political systems. 
Witte says the Journal also "will create informed dialogue on vital topics such as the relationship of legal and religious authorities; legal and religious dimensions of family, charity, and education; religious legal systems and their relationships to secular law, and more. These topics resonate in the lives of people worldwide, and they are becoming flashpoints of major domestic and international conflict."
Founded in 1982 by a group of American professors, including CSLR's co-founders, professors Harold J. Berman and Frank S. Alexander, the Journal was previously headquartered at Hamline Law School with a national board of editors and advisors.
Beginning with volume 29, the Journal will be published as a joint venture between CSLR and Cambridge University Press, one of the world's leading publishers, in operation since 1584. 
Ella Colvin, director of Publishing for Social Sciences at Cambridge University Press said, "As an academic publisher Cambridge's mission is to advance learning, knowledge and research. We are proud to partner with Emory, a center so clearly driving the growth of innovative scholarship in law and religion worldwide. Cambridge will bring high quality production standards, global reach and a sophisticated online presence including online ahead of print publication for the first time. This will benefit authors and readers alike and ensure this journal continues to lead this field."
"We are delighted to welcome the Journal as a locus for cutting edge international, interdisciplinary, and interreligious scholarship," says Robert Schapiro, dean of Emory Law, Asa Griggs Candler Professor of Law, and associated faculty of the center. "This new opportunity reaffirms the law school's long tradition of excellence in international law, embracing global perspectives and interdisciplinary approaches."
Silas W. Allard, the new associate director of the center and former editor-in-chief of the Emory International Law Review, will serve as the new managing editor, and several of CSLR's leading faculty will form an editorial board. Christy Green, an alumna of the Center and a Ph.D. graduate of the University of Chicago, will serve as Book Review editor. "These are exciting times in the field of law and religion, and we believe that our Center is ideally suited to continue leading the field through publication of the leading journal on these topics," says Allard.
According to Professor Abdullahi An-Na'im, CSLR Senior Fellow and Journal co-editor, the field of law and religion is coming of age, "anchored in its own interdisciplinary methodology and confident in its social mission. The Journal of Law and Religion can now firmly focus on all laws and all religions, not only American law and American religions. The challenge for CSLR is to advance this global and inclusive mandate for both law and religion and take the whole field to new heights of achievement."
An international board of advisors to the Journal, comprised of leading scholars from all continents, is being developed.
The Journal will expand publication to three issues a year with each issue comprising roughly 200 pages of full-length articles, shorter essays, and book reviews. The first issue of the Journal to be published by CSLR, due in print in December 2013, will be a substantial book, with fresh essays by the Dalai Lama and Mathieu Ricard; Jonathan Sacks; Seyyed Hossein Nasr and Khaled El-Fadl; and Katharine Jefferts Schori and Luke Timothy Johnson. The first issue also will feature major new articles by professors Michael Perry and John Witte, highlighting themes of their new books forthcoming from Cambridge University Press.
---