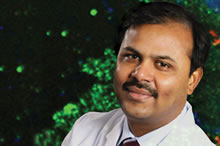 Genetic testing has been in the headlines a lot lately for its role in detecting hereditary mutations that can cause breast and ovarian cancers, but genetic testing also plays a crucial role in treating cancer. The Winship Cancer Institute of Emory University has developed a new, state-of-the-art molecular test panel to help determine the best and most targeted treatments for patients with lung cancer. 
Detecting specific mutations in tumors helps doctors determine which therapies will target those mutations. A patient's treatment plan can then be individualized based on the unique genetic profile of the tumor.
"The new mutation testing tool available through the Emory pathology lab is a major step forward in our efforts to personalize therapy for patients. Even if FDA-approved options are not available for a patient with a specific mutation, we can identify appropriate clinical trials that are most likely to help the patient," says Suresh Ramalingam, MD, professor of hematology and medical oncology and a leading lung cancer researcher and physician at Winship. 
The Molecular Diagnostics Laboratory of Emory Medical Laboratories, in partnership with Winship, now offers the SNaPshot Cancer Mutation Panel, which characterizes 44 different mutations in 10 genes (AKT1, BRAF, EGFR, IDH1, IDH2, KRAS, MEK1, NRAS, PIK3CA, and PTEN). These gene mutations are known to drive cancer growth, confer drug resistance or susceptibility, or are currently under investigation as therapeutic targets in clinical trials.
Detecting these mutations allows for the most appropriate molecular-targeted therapy for clinical cancer care. Approximately 60 percent of lung adenocarcinomas, the most common type of lung cancer, exhibit the mutations identified in the test. 
This advanced mutation panel is available at only a handful of major cancer centers in the U.S. The current panel was developed for lung carcinoma, but can also be used in other cancers. In addition, the multidisciplinary team of pathologists, oncologists and researchers at Winship and Emory are actively working to expand the current panel beyond lung cancer and to discover new mutations in order to provide the most comprehensive assessment of tumor genetics.
---