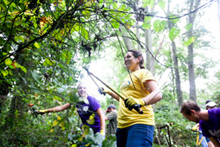 Emory University placed 16th in the 2013 "Cool Schools" ranking, published by the Sierra Club's Sierra magazine.  
"For the past seven years, Sierra magazine has ranked colleges and universities on their commitment to fighting climate disruption and making sure the future their students will inhabit has safe water, clean air and beautiful landscapes," writes Bob Sipchen, Sierra magazine's editor-in-chief. "By showing such strong leadership on so many fronts -- from energy use and transportation to the courses they offer — the best of these schools are pointing the way for other institutions."  
Kelly Weisinger, program coordinator for Emory's Office of Sustainability Initiatives, compiled the data from across the University that Sierra reviewed.  
"Emory has a strong commitment to sustainability, and our ranking in this report was possible thanks to the dedication to sustainable practices in all areas of the University," says Weisinger. "Emory scored the maximum points in the planning, innovation and co-curricular categories, and we also ranked highly in purchasing and transport. We look forward to continuous progress through the implementation of Emory's Climate Action Plan and the many other programs we are developing to help ensure a healthy world for current and future generations."  
Emory is also rated at the Gold level (the highest achieved by any school) by the Association for the Advancement of Sustainability in Higher Education in their Sustainability Tracking, Assessment & Rating System.
---