Concerned citizens from Druid Hills and surrounding neighborhoods convened for a town hall meeting at Emory's Glenn Auditorium Aug. 20 to hear about options regarding cityhood and annexation.  
Several areas in unincorporated DeKalb County are considering incorporating as cities motivated by a variety of factors, including a desire for greater control by citizens and local governments, the confluence of negative headlines such as the challenges at the DeKalb CEO office and County Commission, and changes at the DeKalb School Board and the Superintendent's Office.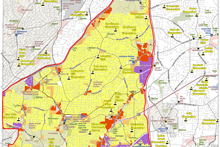 View map of proposed City of Briarcliff.
Certain neighborhoods and prime commercial areas are being considered for inclusion in these new cities and, in some instances, proposed boundaries overlap.  
An estimated 500 people attended the town hall, sponsored by the Druid Hills Civic Association. The Druid Hills neighborhood has more than 14,000 residents, according to the most recent census, and surrounds Emory and the Centers for Disease Control and Prevention.   
Three options were on the agenda: Form a new City of Briarcliff; annex into the City of Atlanta; or retain the status quo as part of unincorporated DeKalb County. (Druid Hills had previously thought about incorporating, but decided it didn't have enough commercial property to raise tax revenues.)  
The crowd heard from representatives of each option.
Allen Venet, chair of the City of Briarcliff initiative, said their proposal emerged "at least in part" in response to the City of Lakeside initiative. "We looked at the map and thought, there has to be a better way," Venet said. "The City of Lakeside initiative is moving very fast. If we are not successful [with the Briarcliff proposal], there will be a City of Lakeside. Annexation is not going away." The proposed City of Briarcliff would include about 90,000 residents and unlike the Lakeside proposal, it would include the Druid Hills neighborhood and Emory's campus.  
Duriya Farooqui, chief operating officer for the City of Atlanta, highlighted many accomplishments under Mayor Kasim Reed's leadership and said annexation into the City of Atlanta would be a good choice for financial stability, more efficient and lower cost services, including streamlining of business permits, and quality of life investments such as parks and recreation, funding for the arts, after-school programs, and senior facilities. The critical question, Farooqui said, is, "Who do you want to be connected to, and how?"  
Acting DeKalb County CEO Lee May acknowledged that DeKalb has "a lot of work to do," but added that cityhood initiatives can turn messy and contentious, with territorial disputes and grabs for commercial district revenue. "When one border is drawn, another border is drawn in order to protect itself," May said. "We want to move forward as DeKalb County … The only way we're going to be able to resolve our issues is collectively."   
Druid Hills Civic Association president Justin Critz urged attendees to complete a survey regarding their opinions about cityhood options, and to stay engaged. "We will continue to be a conduit for information until a consensus emerges," said Critz, who added that the association is not yet advocating for any specific option.
Emory remains neutral  
The University is also remaining neutral on annexation and cityhood at this time. "Emory is carefully studying all of the options and will closely examine the data from the analysis currently underway to determine the impact each option would have on the institution," said Betty Willis, senior associate vice president for government and community affairs. "We have not taken a position yet on anything being proposed, and will share information to keep folks informed as we learn more."  
Both the Lakeside and Briarcliff proposals are undergoing separate feasibility studies being conducted by the Carl Vinson Institute of Government at the University of Georgia, which is a required step in the process to be considered for cityhood. The studies can take up to six months and, once completed, will be considered by the Georgia General Assembly in its 2014 session.  
Any cityhood proposal passed in the state Legislature would then be placed on a referendum to be voted on by the residents within the boundaries of the proposed city.  The voters would have to approve the ballot initiative by 50 percent plus one vote in order to become a new city.
---