Construction now shaping the campus landscape marks a season of growth for Emory, with projects designed to support academic and community engagement, enhance sustainability efforts, expand patient care, and strengthen research and health care initiatives.
Campus
Atwood Chemistry Center
The 70,000-square-foot, five-story addition to the Sanford S. Atwood Chemistry Center will house additional instructional and research space for the Emory College Chemistry Department and serve as a hub for Emory's growing science commons. Construction on the project, which includes renovations on 40,000 square feet of existing space, began in May; completion is expected in 2015.
Related: Construction begins for chemistry center expansion
Candler School of Theology
Construction continues on the second phase of the Candler Theology Building Complex project, which will provide a theology library, teaching chapel and classrooms and address the repair and renovation of Rudolph Plaza. Projected completion is expected by summer 2014.
Related: Candler builds new library, teaching chapel
Cannon Chapel Technology Improvements and Interior Renovation
Renovations include new audio visual equipment to enable live capture and streaming for distance learning, functional space reconfigurations, and updates to existing finishes, lighting and furniture. Completion is scheduled for August 2013.
Related: Cannon Chapel gets its first complete makeover
Dobbs University Center Renovations
The Division of Campus Life has launched a feasibility study to consider renovating and expanding the Dobbs University Center (DUC), an update that would represent the largest renovation to the facility since 1986. Input is being gathered about community needs, including expanded dining services, flexible meeting spaces, room for student organizations, and Campus Life offices that can serve as a gathering spot for students and staff.
Related: Dobbs University Center makeover studied
Oxford College
Oxford College Library
A grand opening and ribbon-cutting ceremony for the newly expanded, renovated Oxford Library and Academic Commons will be held Aug. 24 at 3:30 pm. Improvements include design and technology updates to the basic structure of the library building, built in 1970, along with a new, 10,000-square-foot addition.
Related: New library and academic commons officially opens
Oxford College Fleming Hall
Construction began this summer on Fleming Hall, a 206-bed residence hall on Hamill Street that will be the third structure in the East Village residential complex. The first two buildings in the complex, completed in 2008, have been named Elizer Hall and Murdy Hall in honor of Oxford leaders.
Health Care/Research
Health Sciences Research Building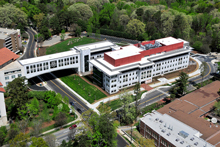 Health Sciences Research Building. Photo by Aerial Photography, Inc.
Faculty and staff are moving into the new Health Sciences Research Building (HSRB) on Haywood Drive. With a distinctive design — a two-story bridge connects the new structure with the Emory-Children's Center building — the 200,000-square-foot, five-story research building creates room to expand research initiatives in Emory's Woodruff Health Sciences Center, including collaborative pediatric research with Children's Healthcare of Atlanta and research for School of Medicine programs and the Winship Cancer Institute.
Related: New Health Sciences Research Building ready for move-in
Emory University Hospital Expansion Project
Excavation will continue into the fall semester on the underground parking deck for Emory University Hospital's (EUH) nine-story tower expansion, located along Clifton Road in front of The Emory Clinic Building B. Once completed, the EUH bed tower will create critical new space for Emory's health care mission, including expanded operating rooms and added ICU and private patient rooms.
Related: Expansion to create critical new space, improve patient experience
Housing
Alabama Hall
Constructed in 1919, Alabama Hall is one of the earliest residence halls on the Emory campus, currently housing 72 students as well as residence life and housing offices. This summer's Phase I construction included roof replacement and the cleaning and tuck pointing of marble. More extensive interior renovations are scheduled to begin summer 2014.
Eleanore Raoul Residence Hall
At 105,000 square feet, this new residence hall will accommodate more than 300 beds and connect to adjacent residence halls via an extension of the green roof plaza and a below-ground parking garage — an expansion of the Longstreet-Means deck, which is available for assigned, permit-only parking. This residence hall completes the northwest corner of the Freshman Quad. Emory's residence life and housing offices are scheduled to relocate here (from Alabama Hall) in May 2014. The remainder of the building will be ready for incoming students by fall 2014.
Harris Hall Renovation
Phase I construction will provide major interior improvements and upgrades, improved electrical fixtures, equipment replacement, the creation of new study rooms and social spaces, private restrooms, with new carpet and paint throughout. Phase II construction is expected to begin summer 2014.
Community
Emory Point: Phase II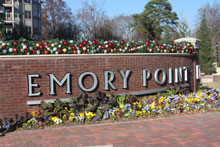 Emory Point. Photo by Erica R. Ervin.
Groundbreaking is expected to begin this fall on the next phase of Emory Point, a commercial/residential development on Clifton Road, according to Cousins Properties Inc., which is developing the site in partnership with Gables Residential and Emory. Site work will begin with demolition of the Emory Inn. Emory Point's second phase will create about 300 additional units of apartments and 40,000 square feet of retail space.
Related: Emory Point businesses begin to open
Emory Village
Two new restaurants join Emory Village this fall:
Slice & Pint: The new brewery/restaurant specializing in handcrafted pizza and beer opened this summer in the space formerly occupied by Everybody's Pizza, which closed this spring after serving the community for 41 years. For more information: sliceandpint.com.

Ink & Elm: Located on the south side of North Decatur Road: this fine dining restaurant/coffee shop/tavern/lounge with a Southern flair is scheduled to open the last week of August. For more information: inkandelmatlanta.com.
---