Emory welcomes the Class of 2017. The first-year class comes to Emory from every region of the nation and around the world, and is defined by the students' diverse backgrounds and interests, impressive academic achievements and a track record of strong engagement with their home communities.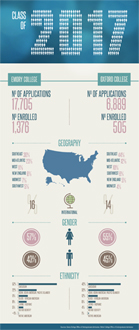 View the Class of 2017 By The Numbers. Illustration by Erica R. Ervin
The freshman classes of Emory College and Oxford College include nearly 1,900 students selected from a record number of applications.  When selecting students for admission, officials go beyond metrics: "The philosophy of the admissions office is to assess the broad qualities of people," says John Latting, dean of admission.
"When I look at this class, I see students who are well prepared to benefit from Emory academically and socially, and who will engage with their fellow students and faculty to make an impact on our community," he says.  "I am very excited for the rest of the Emory community to meet them."
Meet Bert Bull. The valedictorian of his high school class in Jesup, Ga., Bull says Emory stood out as one of the best colleges in the South and the U.S. for a liberal arts education.
He is interested in majoring in biology, with perhaps a double major in creative writing. Bull hopes to get a spot in the Freshman Seminar in poetry taught by U.S. Poet Laureate Natasha Trethewey. "My jaw just dropped when I saw that listed as a course," he says.
He also looks forward to getting involved with Volunteer Emory, a musical ensemble (he plays the euphonium), and Wonderful Wednesdays.
Class of 2017 member Julianna Joss from Anaheim, Calif., was drawn to Emory as a top institution that continues to evolve and grow, and for the profound change of scenery Atlanta would offer.
"A constant interest and fascination of mine has been international relations. I would love to concentrate on foreign relations within a political science major," says Joss, who hopes to participate in student politics, debate and government on campus.
Joss, who has studied classical ballet since age 3, plans a double major in dance and to take her talents to perform at senior citizen centers, a long-term service project for her.
Christina Alexander from Aurora, Colo., will join about 500 students entering the freshman class at Oxford College on Emory's original historic campus in Oxford, Ga. Undecided on a major for now, she is interested in anthropology, neuroscience and "anything involving human behavior."
"I love that Emory offers Oxford as an option. It really gives me the best of both worlds" with a small college experience within a major research university, says Alexander, who chose Oxford after a visit to the campus last year.
"The people at Oxford really took the effort to get to know me when I was on campus," Alexander says. "Emory has a great reputation and the financial aid that was offered to me was outstanding, and very important for my family."
Jennifer Taylor, associate dean for enrollment services at Oxford, says Oxford College "is excited to welcome our new students from the largest applicant pool in history.  These students bring diversity, enthusiasm and curiosity to the classroom, and will make their mark in the Oxford community in various ways through their many talents and interests."
---